FMCPAY is a US-based global cryptocurrency exchange licensed in 2021. FMCPAY provides a platform to trade a wide range of cryptocurrencies globally. FMCPAY has the lowest competitive transaction fees in the market with a 0.04% transaction fee,fast transaction processing speed compared to other exchanges in the market. FMCPAY with potential financial services: Margin, Spot , Wallet, Affiliate .. 
FMCPAY provides safe and reliable digital asset trading and management services to millions of users globally with the mission of creating a breakthrough in the Blockchain exchange market. FMCPAY is a reliable exchange with the goal of providing smart financial solutions from the application of Blockchain technology to AI while minimizing transaction financial risks, optimizing the relationship between customers, investors and community enterprises.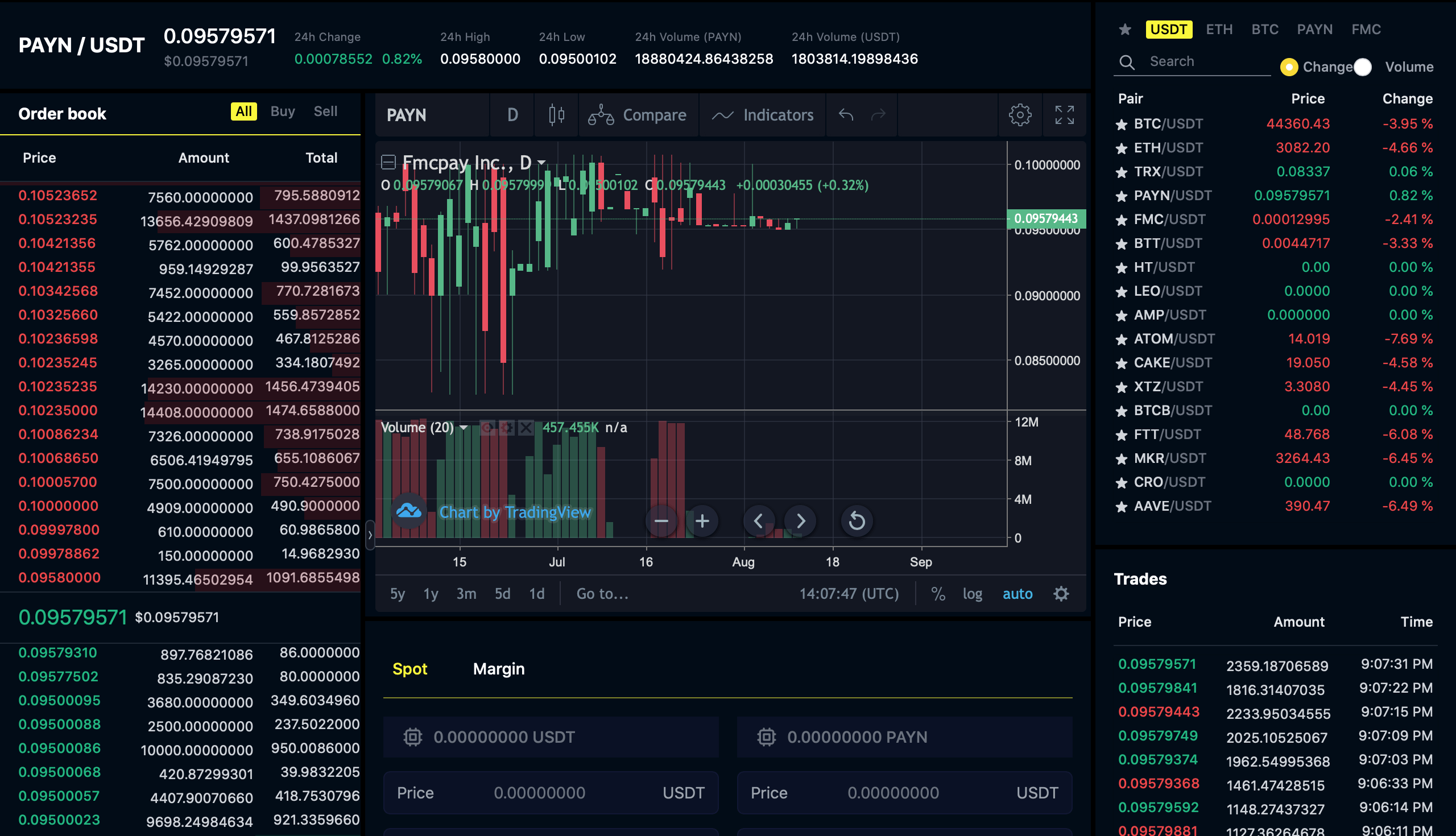 FMC Token
FMC is a cryptocurrency issued by the FMCPAY platform. FMC Token runs on the TRON platform, issued in limited quantities, for the purpose of promoting trading activities on the FMCPAY platform.
Total issuance of FMC Token is 128 318 618 918
The purpose of using FMC Token on the exchange is mainly to pay for transaction fees, exchange fees and other services in the financial ecosystem of FMCPAY.

Superior customer experience
Enhance loyalty for your business by providing the best payment experience in the market for your customers.
Modern infrastructure
Leverage advanced blockchain technology to streamline payment services and reduce costs.
Unique liquidity solutions
Eliminate upfront funding and free working capital with On-Demand Liquidity.
Simplified network connection
Expand your network and access major corridors with ease by connecting and trading with leading receivers in key markets.
How FMCPAY Works
With a single connection, access to the best blockchain technology for global payments, the ability to pay in over 40 currencies, on-demand liquidity as an alternative to pre-capitalization and unification The shop operates through a common rule.
The outstanding functions available at FmcPay help customers manage assets, monitor chains: Margin, Spot, Wallet, Affiliate, …. More interesting linking features are coming in the future.
Transform your payments business
Be part of an innovative network that is changing the way money moves around the world. FMCPAY Team is looking for Co-operation from communication channels to help market FMCPAY Exchange.