Last week was an extremely volatile week for the market. See the Weekly crypto market report 45th below.
WEEK in REVIEW AROUND THE WORLD
Sam Bankman-Fried, the creator of FTX, will be sentenced on March 28 and could spend up to 120 years in jail after being found guilty on all seven criminal fraud offenses.
The detailed plan for stablecoin laws is published by the UK Treasury.
80% of Bitcoin addresses worldwide are profitable, which is a record high.
UN study highlights strong correlation between mining energy consumption and Bitcoin price.
The IRS will receive data from 42,000 users on US cryptocurrency exchange Kraken.
Visa and regional banks finish Hong Kong's digital dollar test.
In Brazil, USDT usage is on the rise and accounts for 80% of all cryptocurrency transactions.
In the Do Kwon and Terraform Labs case, the SEC is requesting a summary judgment.
The digital currency of Georgia's central bank will be powered by Ripple Labs (XRP).
FOMC: FED raises its estimate of economic growth while maintaining a stable rate.
Rates remain at a 15-year high set by the Bank of England.
Yen gains when the Bank of Japan announces plans to raise the yield cap.
US jobless rates have reached a nine-month low.
Market Overview – Weekly crypto market report 45th
1.1 Bitcoin Overview
The rising wedge is drawing toward a big break after having gone close to $36,000 earlier this week.
Technicals are ready for a spike higher, especially when combined with event risk (possible announcement of a Bitcoin ETF) and a declining VIX (risk asset buoyancy).
A decline may be sparked by the market's alignment with geopolitical risk catching up with it. $38,000 is the topside resistance level above $36,000, which is based on levels from mid-2022.
On the down side, it would be feasible to retest 31,000, the previous highs, covering the space left by the first upward push a few weeks ago. Overall, we believe that options dealers' gamma hedging could push prices higher from here.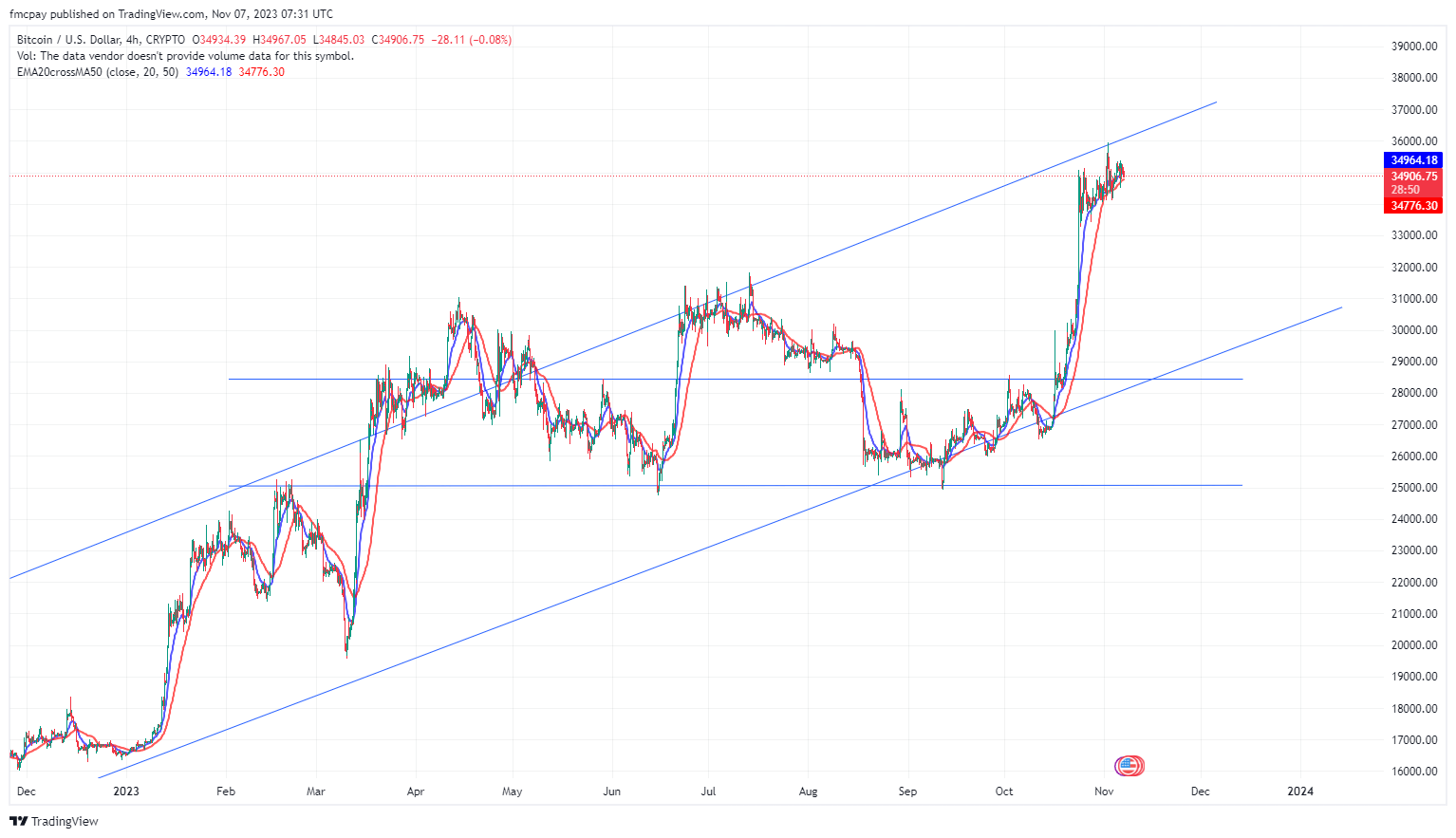 1.2 Altcoin
The OpenAI DevDay technology event has caused a number of altcoins, including $FET, $OCEAN, $AGIX, and $RNDR, to see significant increases of 50% or more. Furthermore, low-cap coins like $BLZ, $ARK, and $STMX are seeing notable rises. But be cautious during this time when high-cap coins stay steady and low-cap coins surge, as the market frequently undergoes large corrections.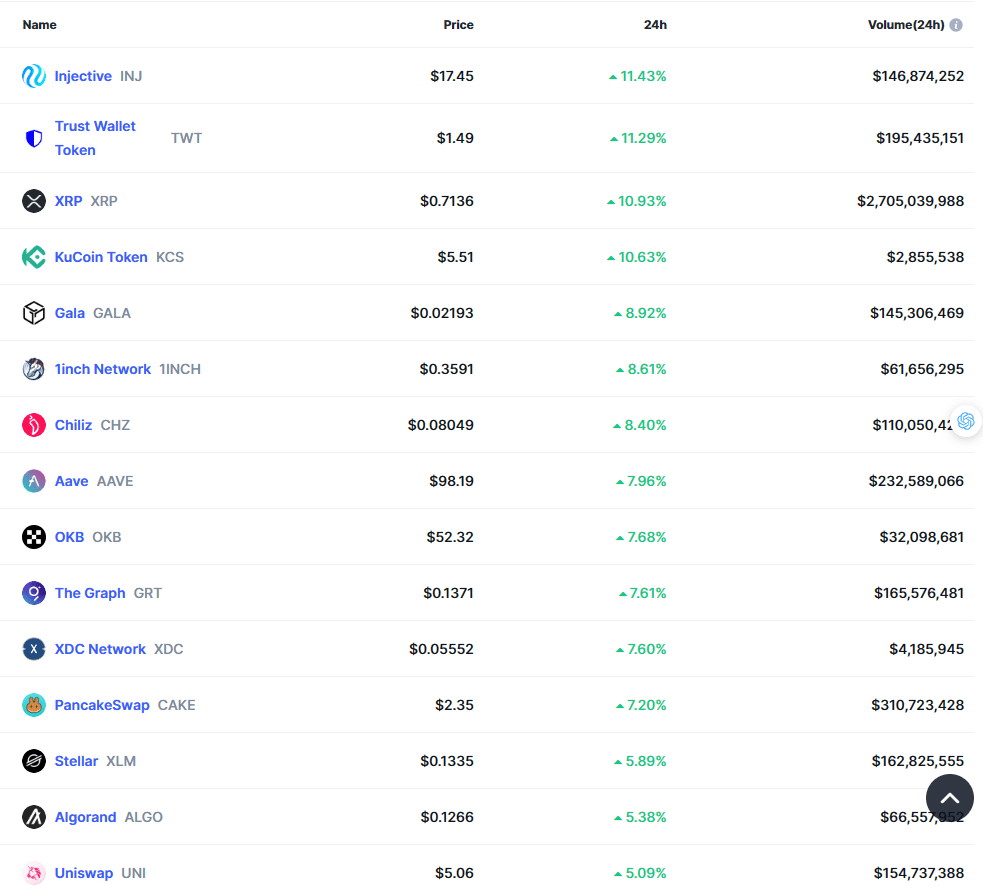 1.3 Onchain
Following a fervent week that saw a surge in price of over 24%, $BTC is currently trading with a small trading range of only 5%, between 33.4K and 34.9K. The majority of altcoins have experienced very noteworthy gains over the last week, rising in value by 50% to 100% in just a brief period of time.
This is taking place in advantageous circumstances as $BTC is trending sideways and BTC.D, or the dominance of Bitcoin, is beginning to reversal.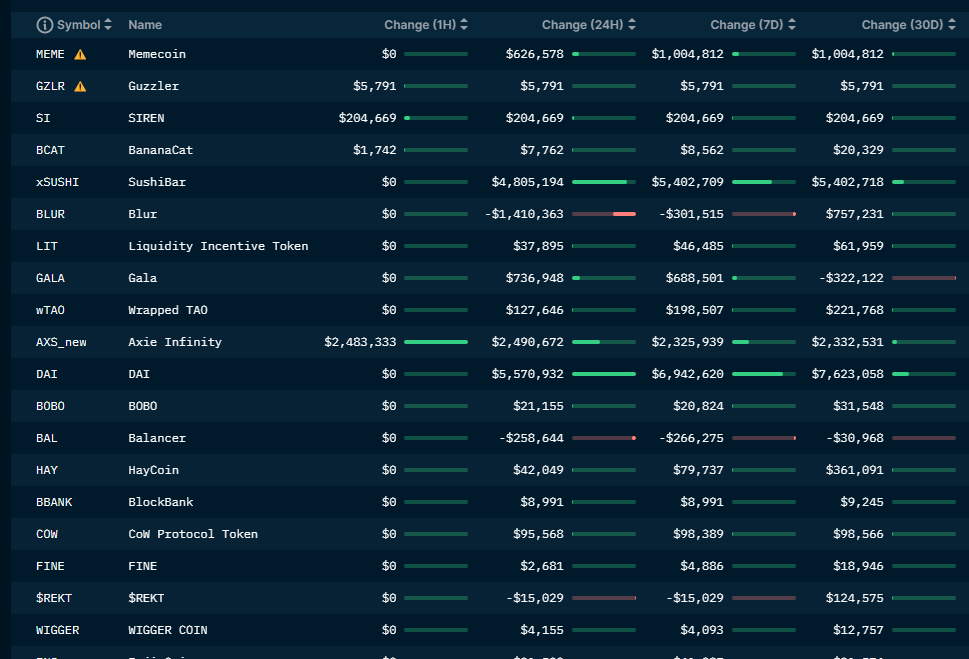 The stablecoin $USDC, which has over $40 million deposited on different trading platforms, is at the top of the list this week. Whales primarily use Coinbase and Binance as their primary platforms for these deposits.
At the current prices, this is a fairly positive signal from the wise money. But what we really need to watch is the Netflow Stablecoin, and whether big money—that is, smart money—is making more deposits or if net outflows are currently outweighing net inflows.
Derivatives
The CME volumes are still rising, indicating a significant institutional adoption. The only licensed venues for trading futures in the US are CME, CBOE, and Coinbase.
Coinbase has also made cryptocurrency futures trading available to US investors. This combined with an anticipated spot ETF BTC ruling spells a more regulated trading and hedging environment, especially in the United States.
Standard Chartered is sticking with its more ambitious prediction of 120K USD by the end of 2024, while JP Morgan predicts that BTC will reach 125K USD by the end of 2025.
Over the next few years, it will be difficult to ignore a greater crypto market cap given how Apple's market capitalization increased as it was included in an increasing number of ETFs (at 337 as of right now).
The 2024 BTC halving is one of the medium-term catalysts. From a derivatives orderflow viewpoint, the options dealers' desire to hedge their gamma over 36K, with an anticipated 20M of buying for every 1% move, is also the short-term driver for a break above 36K.
Although 20M doesn't always influence the market, prop funds frequently lead significant breaks by front-running this kind of orderflow.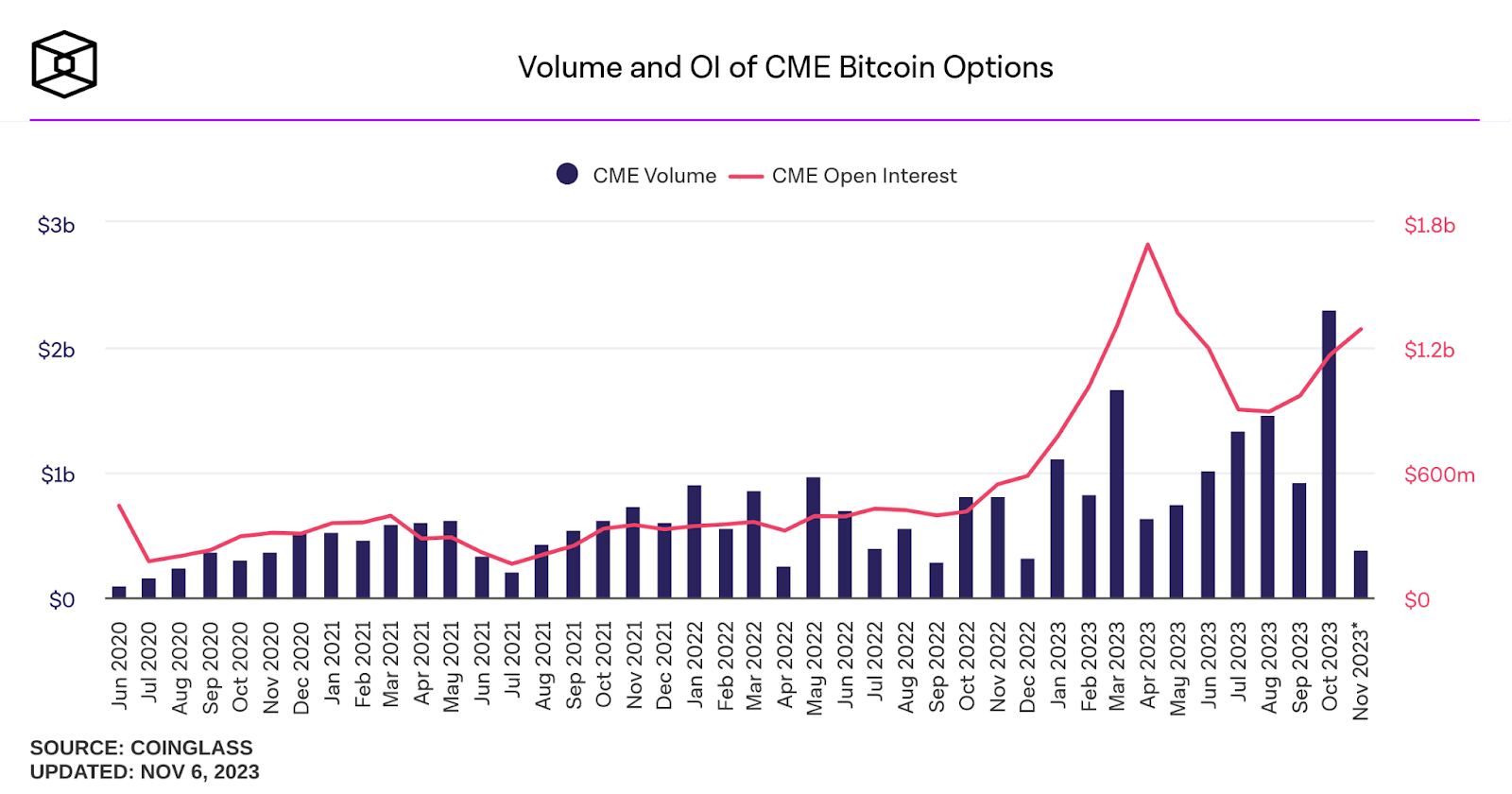 Geopolitics
Israel keeps hitting Gaza with forceful strikes. The world is growing less certain, and the US is now pushing Israel to halt its actions for humanitarian reasons.
With regard to his messaging, Netanyahu has been very clear: "There will be no ceasefire without the return of our hostages". The world is growing more divided by the day; while few people support Hamas' actions, the military response is currently in the public eye, and it is estimated that children make up at least half of those slain in Gaza.
In many ways, the situation is unachievable; neither Israel nor the rest of the world can stand by and watch as any group behaves as Hamas did.
Since Israel has been pushed into a corner, its only option is to take action. Weighing this response while maintaining the support of their strongest allies will be the difficult part.
To get some insight into how the US is viewing this developing situation, we are following US Secretary of State Antony Blinken's visit to Palestinian authorities in the West Bank.
Remarkably, the VIX has dropped below 15, indicating that the market may have become complacent about a possible collapse in international relations.