Last week,
a series of Old School Whales gathered when the crypto market adjusted the price. 
One of the hottest crypto news last week, typically, the cryptocurrency such as Bitcoin, Etherum, Cardano, XRP continuously increased in network price in the past week, the peak of Bitcoin price increased by more than 11% in 7 days and ADA, XRP increased by 40-50% in the last week. The price correction in the crypto market has attracted whales to deposit funds on exchanges to buy more assets.
According to CryptoQuant, exchanges saw an influx of more than $222 million worth of stablecoins yesterday, Aug. At this point, the cash flow appears to completely coincide with the price of Bitcoin which is correcting down.
When the stablecoin flow indicator drops, it's a sign that investors won't be interested in buying, they may be looking to wait and see market volatility before going down.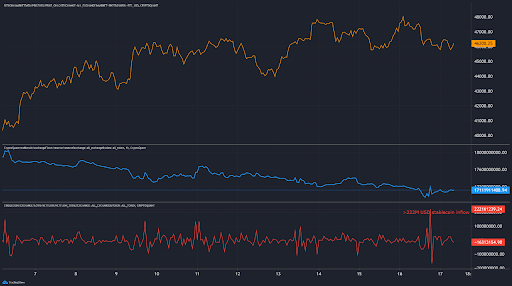 Source: CryptoQuant
This indicator spiked on Aug 17, when $222 million worth of stablecoins (red curve) were added to the centralized exchange.
As shown by the yellow curve indicator, the price of BTC fell from $47,500 to around $46,000 before the cash flow appeared.
Another metric, (green line indicator) the stock on the floor also skyrocketed in parallel with the inflow of $222 million.
The figures show that the timing of the Bitcoin price drop and the inflows of money into the actual exchanges is so great, it seems that these are whales and institutional investors trying to buy. when BTC was correcting its price in the market.
At the time of writing, the current BTC price is hovering at 45,183, down 2.37% in 24 hours of updated data at Coinmarketcap and Coincapnews.