We are thrilled to unveil an exciting collaboration that is set to redefine the blockchain landscape! FMCPAY is honored to announce its role as a community partner for NEAR APAC Vietnam 2023, the most anticipated blockchain conference in the Asia-Pacific region.
What is FMCPAY?
FMCPAY Exchange, is a cryptocurrency and electronic stock exchange – owned by FUINRE corporation and registered for a financial business license in the US. We build scalable, secure blockchain enabled solutions that supercharge users experiences using digital assets.
Founded in 2021, FMCPAY Exchange stands as a cutting-edge platform for cryptocurrency and electronic stock trading. With a thriving user base exceeding one million individuals, we offer access to over 60 trading pairs, facilitating transactions that have surpassed the $5 million mark.
What is NEAR APAC Vietnam 2023?
Through a series of insightful events running from June to September with the main conference scheduled for 8 – 12 September 2023, NEAR APAC brings together 100+ global blockchain leaders to discuss blockchain's unlimited future through the latest blockchain technology updates, development trends, and how blockchain ecosystems drive Web3 mass adoption. With 8000+ participants including global crypto leaders, multi-chain ecosystem builders, Web2 and Web3 enterprises, VCs, universities, global media outlets, exchanges, investors, and blockchain enthusiasts, NEAR APAC is a great opportunity to not only gain insights into the Web3 space but also expand your connections and understanding about the local industry of APAC region, with a special focus on Vietnam, the country ranked #1 in the global crypto adoption index.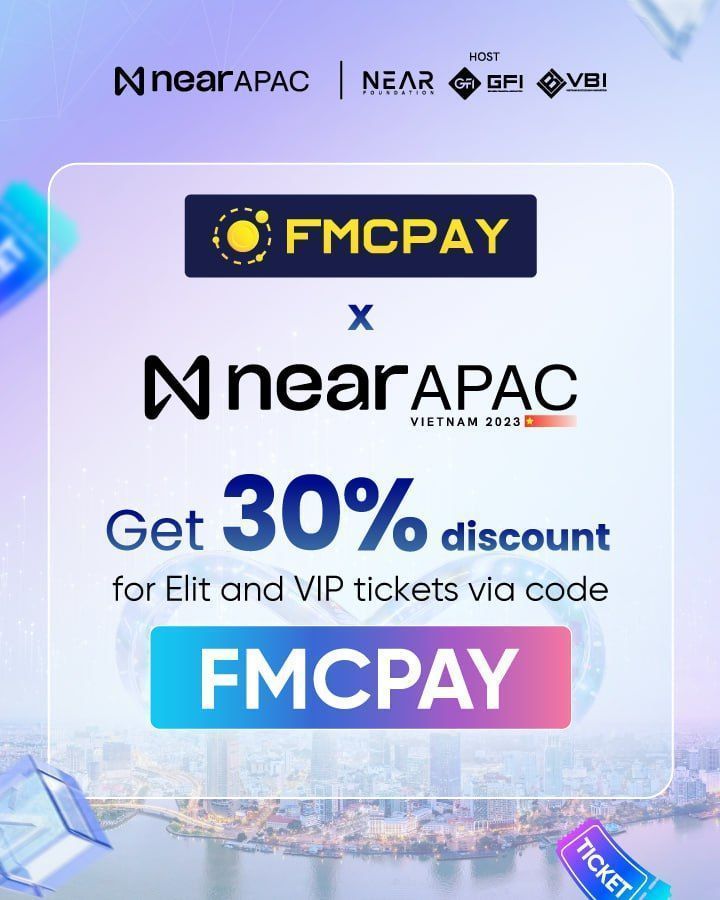 Event Details
Date: September 8 – 12, 2023

Location: Ho Chi Minh, Vietnam
Why attend?
Thought Leadership: NEAR APAC hosts panel discussions with world-renowned experts, and networking opportunities for investors and technology enthusiasts.

Extensive Reach: Connect with 8,000+ attendees, 100+ global speakers, 300+ web3 projects, 1000+ developers, 100+ enterprisers, and much more!

Strong Networking: Build relationships with the most influential decision-makers, developers, and investors in the blockchain space.

Exhibitors: Engage with the products and services from global blockchain companies, from startups to global enterprises and beyond.

Astounding Innovations: Discover new Web3 applications that are changing industries on a global scale.
Exclusive Offer
As a token of appreciation for your support, we're excited to offer an exclusive unlimited 30% discount on Elit & VIP tickets with the code: FMCPAY. Secure your spot now and be a part of the blockchain revolution!
Get Your Tickets
Don't miss out on this incredible opportunity to be a part of NEAR APAC Vietnam 2023. Secure your tickets today at nearapac.org and use the discount code FMCPAY for unbeatable savings.
See you in Ho Chi Minh City!
For more updates and information, follow FMCPAY and NEAR APAC Vietnam 2023 on social media.