I. MARKET OVERVIEW
TECHNICAL ANALYSIS
1.1 Bitcoin
Event: BTC ETF 1-3/2024, Halving 4.2024, ETH December 1st quarter 2024. Watch for big news, stimulating new money flow FOMO

September 21 FED FOMC, USD is strengthening due to news, Can time it from September 20-23 if the BTC dump can be disbursed

Bitcoin price is tending to adjust in about 60-90 days towards filling the GAP CME 21K5 => then creating a bottom for the bull wave in early 2024

The disbursement range is 20-25k, the lower BTC goes, the more capital is divided into DCA.
1.2 Altcoin
Most altcoins are searching for new bottoms, the chart is relatively weak, and the market mainly pumps low-cap <50M, such as $BLZ, $MULTI, and $NMR, etc. Strongly active MM is DWF Labs pumping quickly and dumping quickly

Altcoins are in the decreasing phase and tightening supply (reducing vol) entering the accumulation phase.
1.3 BTC Onchain
Key takeaways:
BTC onchain indicators show positive signs in the long term when the number of BTC held for more than 3 years reaches ATH and whales almost no longer sell.

Last week's price fluctuations made the derivatives market vibrant again, and at the same time pushed up liquidation risks, it is likely that there will be a quick sale this month. This may be the time to place an order to DCA Bitcoin when the price sweeps down to the buy zone.

Report that large funds this week have -$11.2M leaving the market, however Bitcoin has a small capital flow of +$3.8M being invested. Eth -$3.2M. Among them, Germany sold the most with -26.9M USD, Switzerland bought an additional 14.8M USD and the remaining countries were not too significant.

Update this week's event schedule with the first unemployment index and FOMC members' speech schedule
   
Amount of BTC held for more than 3 years reaches ATH
According to data updated on September 5, the amount of BTC held by active wallets from 3 years ago has reached an all-time high, accounting for 40% of the total BTC supply. This is an indicator of smart money flow for BTC, there is a high possibility that the price will start to gradually go up from here.
Bitcoin heatmap
The $BTC heatmap shows whale groups being neutral or slightly distributed, with no group showing significant buying/selling action.

Typically, the group of fish holds >10K BTC, currently the indicator line is yellow – neutral position.

The group holding 1K-10K & 100-1K $BTC is selling lightly and the group 10-100 & 1-10 tends to sell more strongly. Fish group <1 does not have a significant influence and remains neutral



Futures market – the rate of futures deposited soared
About 35% of all current futures contracts are crypto-margined, and when the price of BTC declines, there is a risk of position liquidation, causing prices to continue to fall even deeper.

Based on this ratio, along with low real volume making the price easily manipulated, it is likely that there will be another round of sales within the month – when a long squeeze (liquidation of long positions) occurs, it will cause the price to decline. faster and deeper.




LIST OF FUNDS VCS, MM
Report major funds this week
This week, about -11.2 million dollars left the market but Bitcoin had a small inflow of about 3.8 million dollars. The Bitcoin short fund also exited -$3.3M. For Ethereum, there was -3.2M in weekly exits.

Among the countries, Germany is the country selling the most with -26.9M USD, the remaining countries are insignificant. In particular, Switzerland has positive cash flow with +14.8M USD

Event schedule this week
Wednesday 9:45 am: S&P global index 

Wednesday 10 a.m.: non-manufacturing employment index. If this index is greater than 50, it means the non-manufacturing economy is expanding and vice versa. When this index is higher than expected, it will have a positive impact on the dollar price.

8:30 Thursday: first unemployment index

3:30 p.m. and 4:55 p.m. Thursday: two FOMC members speak, based on their content they can predict the possibility of the Fed's next interest rate increase.
II. Onchain Altcoin
Overview
Token Deposit – Withdraw
It was another week with quite strong fluctuations for $BTC. This week $BTC had an impressive increase with Grayscale winning the lawsuit against the SEC in approving the Bitcoin ETF, causing the price of $BTC to increase by more than 9%. , from 25K8 straight up to 28K1, causing the entire market to have a slight pump. Among them are the Launchpad and Launchpool coins, led by $CYBER with an increase of more than 346% in just 4 days and this coin has attracted the attention of the entire market when the trading volume in These days it has reached nearly ½ billion dollars. 
Besides, launchpad coins such as SEI and ARKM also had quite impressive increases, 50% and 55% respectively.However, immediately after that, $BTC had a reverse decrease of more than 6.5%, causing this coin to return to trading at 25k8.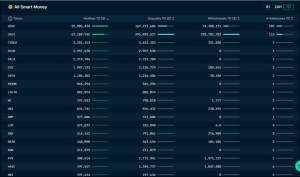 First of all, let's take a look at the Top Tokens with the most net deposits to the exchange in the past week of all Smartmoney.
At the top of the table this week is the appearance of two pairs of Stablecoins USDC and USDT with more than 160M$ having been loaded onto the floor by Smartmoney during the past week, in which this amount was mainly loaded around the time time before the announcement of Grayscale winning the SEC lawsuit, so we can see that these SMs are very sensitive to the market and have extremely good Timing ability, however, we do not know what purpose this amount of money is used for. need to go into more detail.
There are also some possibilities that Smartmoney, specifically funds here, use this amount of money in addition to using it to buy Spot Altcoin, they can also go Long / Short to optimize profits, or more simply is their Hedging Portfolio to avoid unnecessary losses and preserve their capital.
Ranked second on this list is $CYBER with more than 3.2M$ $CYBER has been deposited on the exchange by Smartmoney, so it can be seen that $CYBER is almost entering the distribution phase when most Smartmoney are moving forward. depositing $CYBER to the exchange, causing the price of this token to drop by more than 50% of its value in just one short day. Everyone should be cautious when investing in $CYBER at the present time