Last week, with BTC experiencing a slight recovery, several Altcoins also exhibited similar trends. Let's dive into the comprehensive weekly crypto market report of the 38th 2023 below.
Market Overview
1.1 Bitcoin
This week is significant for Bitcoin, firstly with the SEC vs Binance case coming to light. Before that, over the past month, around $900 million has been withdrawn from the Binance exchange.
Secondly, in the early morning of September 22nd, the FOMC meeting will announce interest rates, and the subsequent remarks by the Fed Chairman, which are closely watched for their impact on the global financial markets in Q4.
Regarding the charts, Bitcoin saw a recovery from $24.9k to $26.5k over the past week. This price range has led to a significant number of long and short options being opened, and neither side had much profit to be realized at the September 15th expiry, so there weren't many surprises in terms of widespread liquidation.
In terms of cycles, Bitcoin tends to experience significant volatility after ranging sideways for about 60-90 days. Currently, compared to the peak in July, Bitcoin has corrected for more than 60 days. Thus, it's expected that Bitcoin may see a rebound in October after the next week.
In the upcoming week, investors should pay attention to major news events. If the market experiences a dump, it could present an opportunity to accumulate Bitcoin.
1.2 Altcoin
Over the past two months, there hasn't been a single altcoin project with a market cap over $200 million that has experienced significant pumps. Most altcoins have followed the trend of Bitcoin, experiencing both rebounds and declines.
The altcoins that have seen significant pumps in the last two months, such as YGG, CYBER, PERP, TRB, HIFI, UNFI, are all low-cap projects that began pumping with market caps below $50 million. They are associated with two prominent entities in the market, DWF Labs and the Upbit exchange from South Korea. To profit in this stagnant market, it's advisable to choose low-cap projects (especially those with derivatives where market makers can profit from retail traders with various hedging strategies).
It's important to select projects with strong fundamentals that are developing well in this period. These projects should have low market caps and charts showing consolidation rather than attempting to catch falling knives that might be manipulated by various market participants like market makers (MM), whales, fresh investors, or the project's team.
The main trends discussed at the TOKEN2049 event are AI Big Data, technologies focused on Layer 2 (L2) and Zero-Knowledge (ZK), and the trend boosting the DeFi market known as Real World Assets (RWA). These are the three major trends to keep an eye on.
Over the past year, out of the top 100 projects with market caps over $270 million, only 11 projects have outperformed Bitcoin in terms of returns. The other 88 altcoin projects have had lower returns compared to BTC.
When investing in altcoins, it's essential to be highly selective and choose only the top 10% of projects. Additionally, the rule of thumb is that when an altcoin experiences a rapid and significant pump, it often undergoes a substantial dump afterward.
If you're not skilled in research and don't have much time to spare, it's advisable to place your trust in Bitcoin.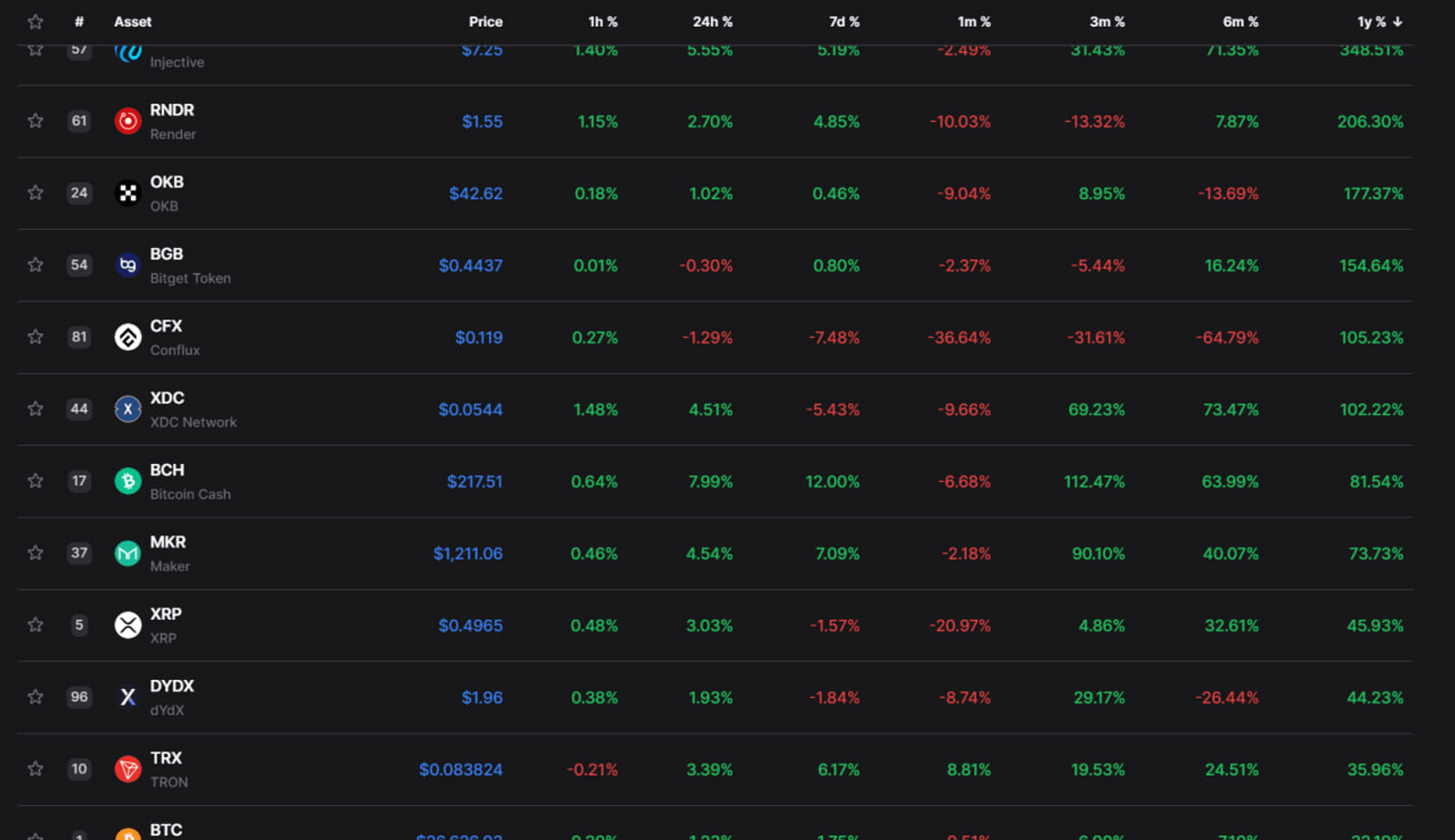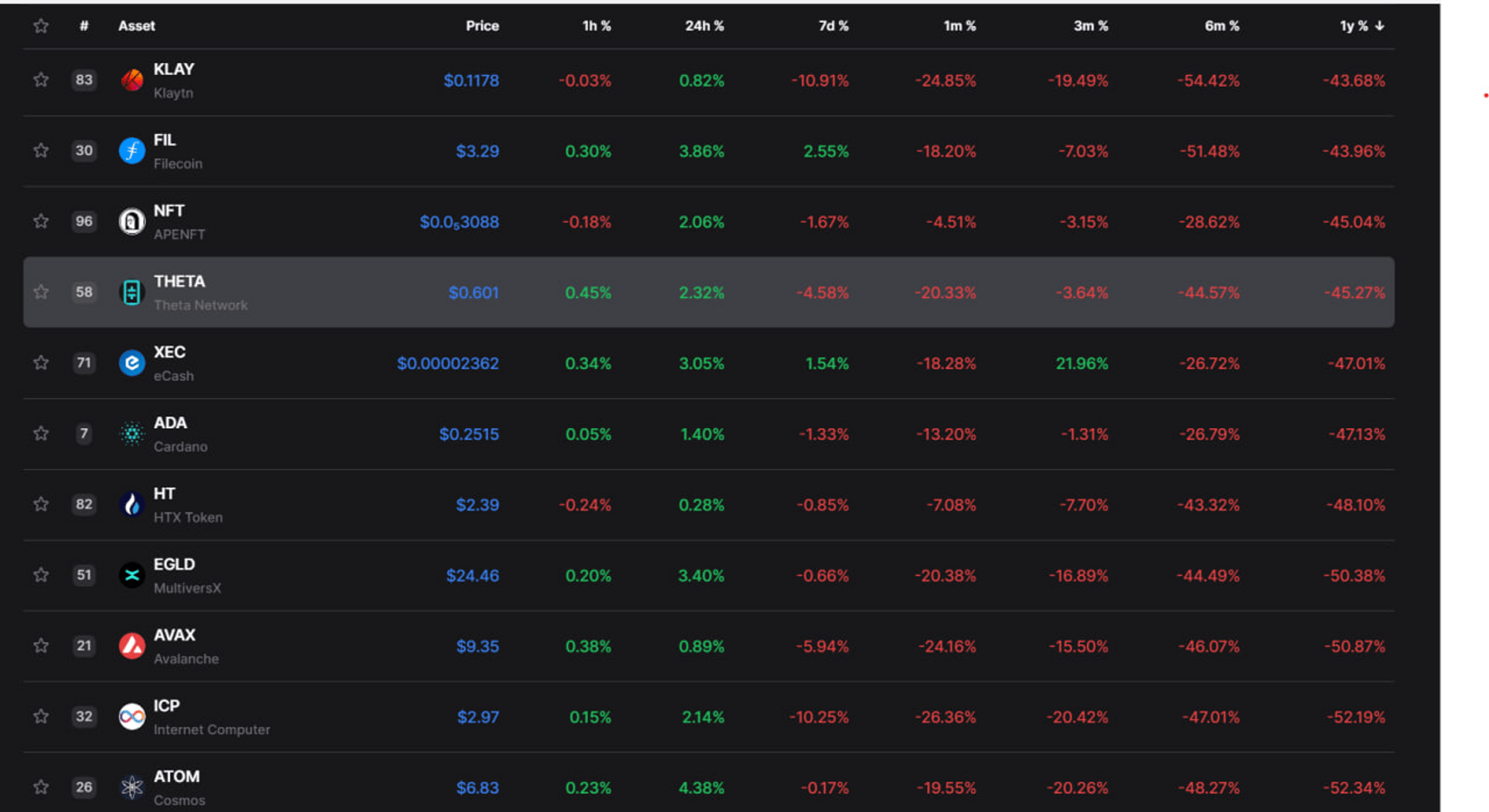 1.3 Unlock Vesting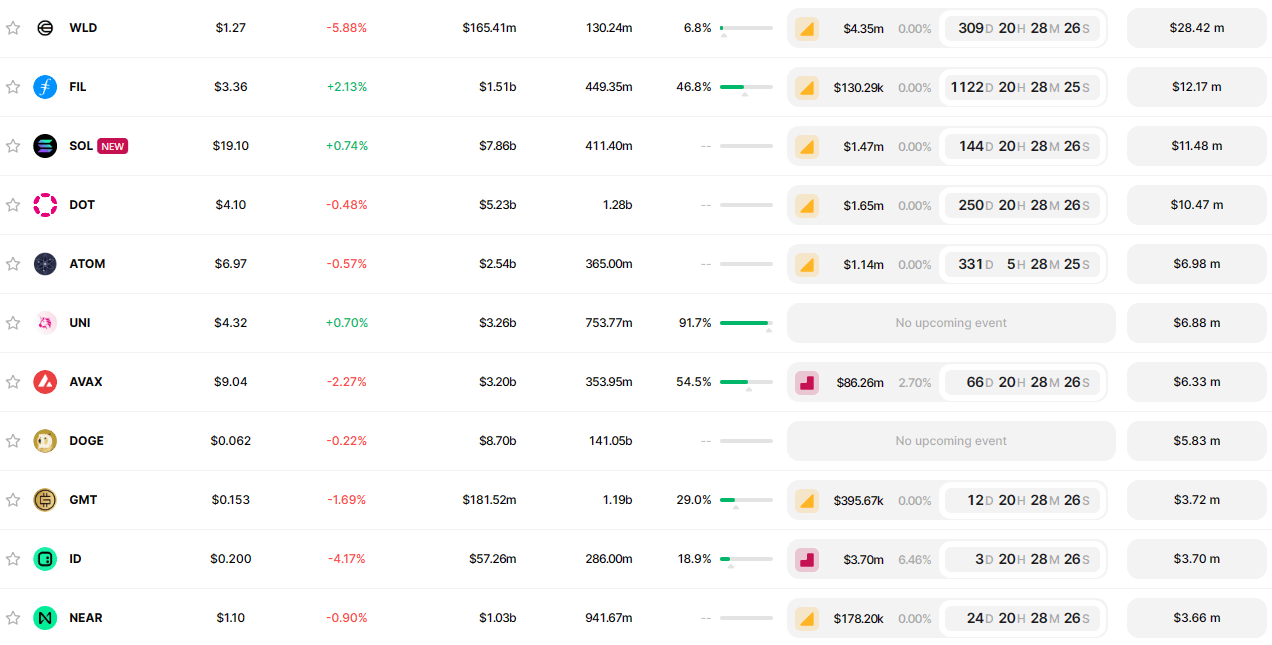 In the next 7 days, there isn't much notable information about projects that will unlock. The most notable is still WLD with $28 million being unlocked, which will create significant selling pressure on this token.
The tokens with the most unlocks in the coming week include:
WLD : $28,42m ~ 17,2% Cir.supply
FIL : $12,17m ~ 0,8% Cir.supply
SOL : $11,48m ~ 0,1% Cir.supply
DOT : $10,47m ~ 0,2% Cir.supply
ATOM : $6,98m  ~ 0,3% Cir.supply
UNI : $6,88m
Other large quantity token unlocks can be found in the image.
ONCHAIN DATA
After dropping to around 25K, Bitcoin ($BTC) continued to trade sideways within a narrow range (approximately 5%) this week, moving between 25.1K and 26.3K. Most of the market experienced significant losses during the week, especially coins like ARB and PEPE, which continued to explore new bottoms, suffering losses of more than 30% in a week. Notable inflows of capital at the moment are seen in low-cap coins such as BLZ, KMD, LPT, etc. Apart from low-cap coins, there are hardly any tokens showing significant gains at the moment, with most simply holding their prices. Strong coins are those that haven't broken their previous lows, like KNC, FET, etc.
Inflow
First, let's take a look at the top tokens with the most inflows onto exchanges in the past week, as reported by Smartmoney.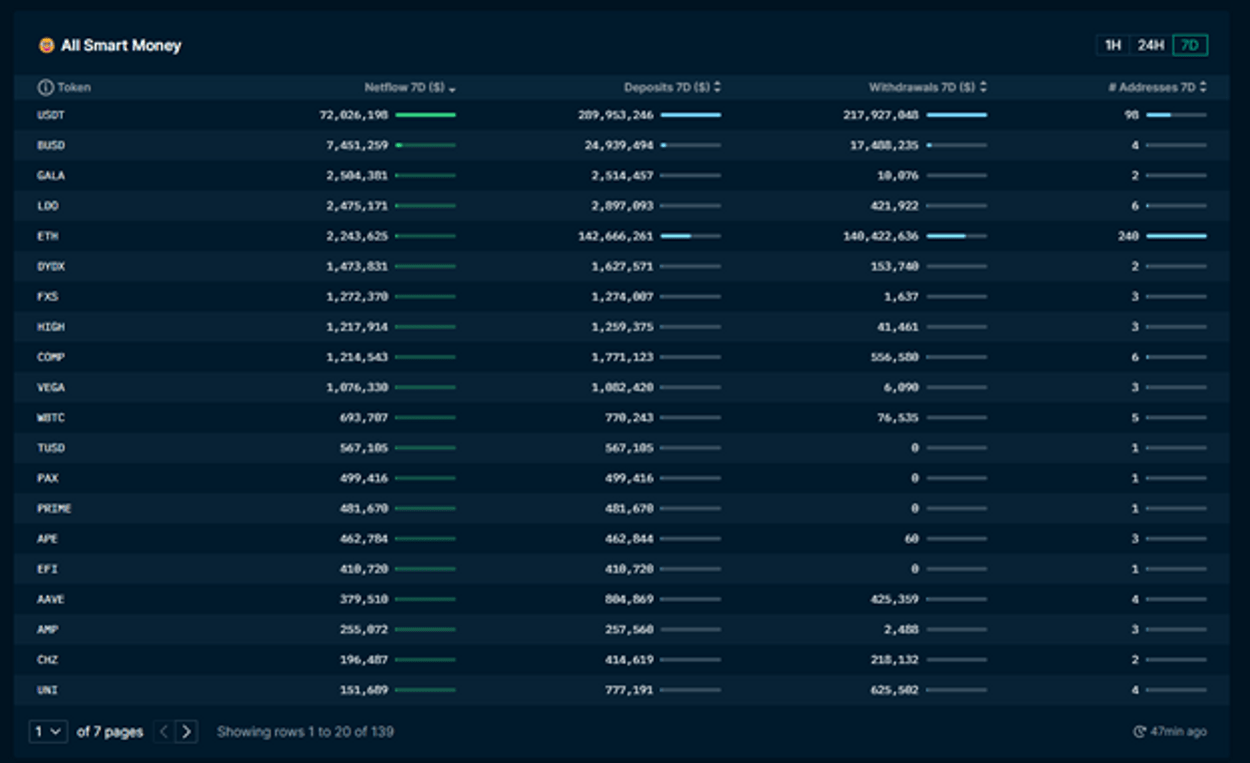 At the top of the list this week is the stablecoin $USDT, with over $76 million $USDT + $BUSD deposited onto various exchanges, primarily Binance and Coinbase, as these are the two exchanges most frequently used by whales. This is a noteworthy signal at the moment, as Smart Money is starting to invest again after a long period without significant interest in altcoins. However, it's important to note that this buying pressure is not as strong as it was in June. Some of this money may also be used for hedging to avoid losses in the spot portfolios of these investment funds.
We need to confirm where this money is flowing and whether it's actually being used to buy altcoins (or $ETH) or simply for portfolio hedging. This is especially relevant given that some altcoins have undergone 2x or even 3x splits in just a few weeks recently.
Second on the list is $ETH, with over 4.7 million $ETH deposited by Smart Money onto exchanges. This suggests that most of the stablecoin deposits are not primarily for buying altcoins (or $ETH), which is not a positive signal at the moment.
In third place is $GALA, with over 2.4 million $GALA deposited by Smart Money onto exchanges such as OKX. $GALA is currently in a vesting period with a dense schedule, with vesting occurring every three days or even less frequently. So, investors should be cautious when investing in $GALA during this period to avoid unnecessary losses.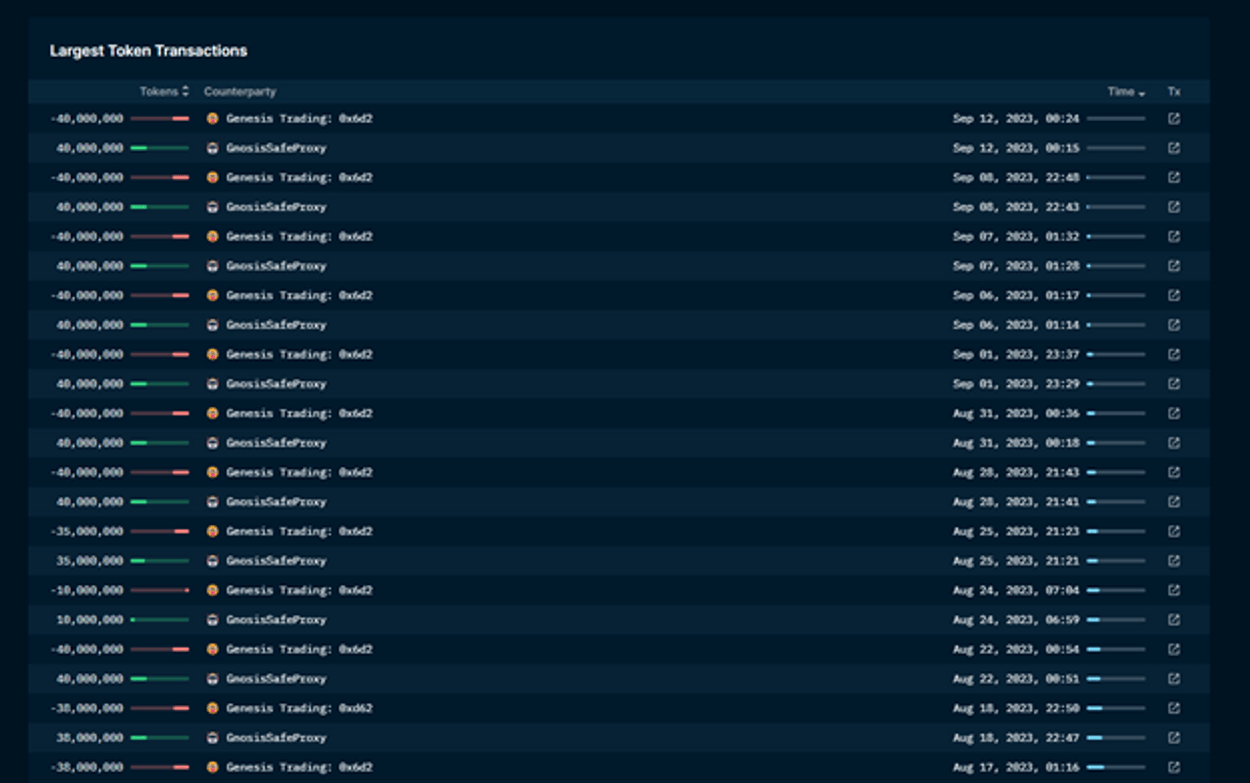 Additionally, there are tokens like $LDO, $DYDX, $FXS, $HIGH that have seen significant deposits onto exchanges in the past week, as shown in the image.
Outflow
In the opposite direction, let's take a look at tokens that have been withdrawn from exchanges into Smart Money wallets over the past 7 days:
This week, in addition to $USDC being withdrawn with over $4.3 million, which reduced the actual amount of Stablecoin deposits on exchanges to only $72 million, SHIB also saw withdrawals of over $4.1 million after dropping over 38% from its recent peak. Most of these withdrawals were made by Jump Trading, which withdrew over $3.8 million in $SHIB to personal wallets through subsidiary wallet addresses as shown in the image below.
In summary, over the past month, Jump Trading has withdrawn over $18 million in $SHIB to their wallet. This can be considered a somewhat positive signal for this Meme token in the future, as Jump Trading continues to accumulate this token.
Right after $SHIB, the token that has drawn a lot of attention recently is $KNC (Kyber Network Crystal).
In the past week, $KNC has also seen significant withdrawals by Smart Money, totaling around $1.4 million. Among the notable names, Farmer X and SDTrader stand out, as they made multiple purchases of $KNC for farming pairs like KNC-USDC-ETH with a value exceeding $2 million at the time.
This is a quite positive sign for $KNC at the moment, as even big players in the market are buying $KNC for farming to maximize profits.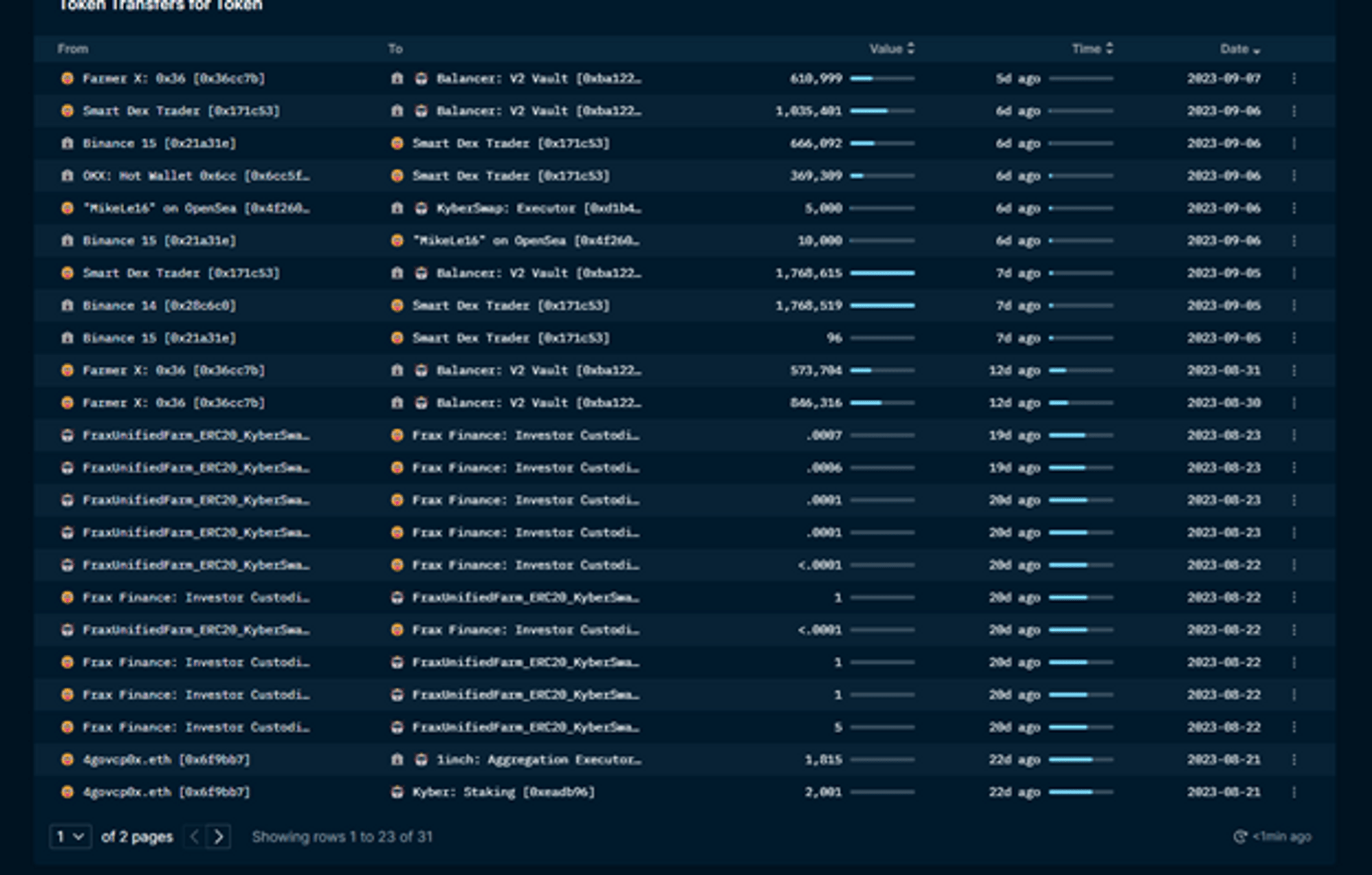 ANALYSIS CHART BTC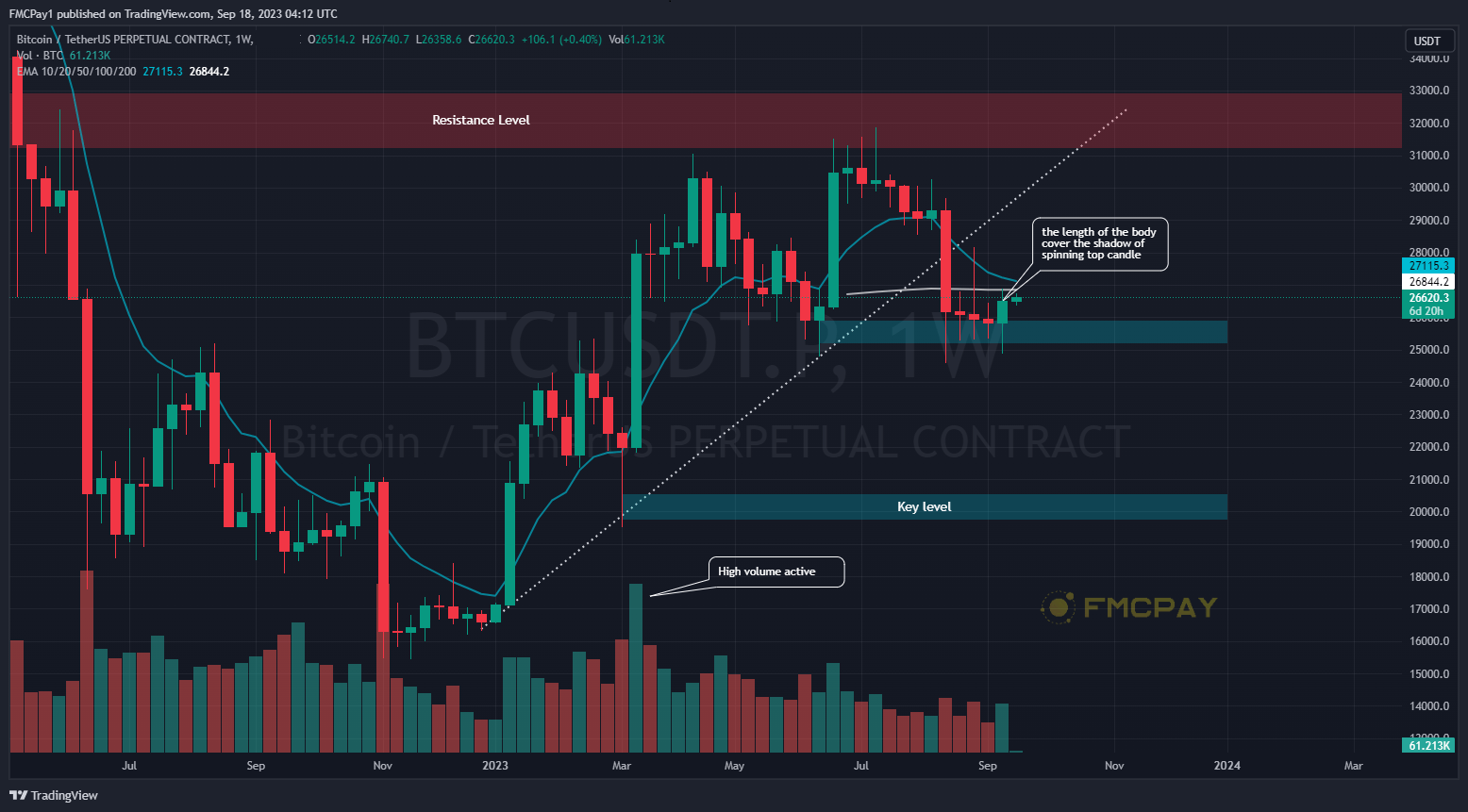 In the Weekly time frame (T-F) analysis, we observed that the closing price of last week's candle was below both the 10 and 200 EMA. Notably, the body of the candle was relatively small, covering the shadows of the next spinning top candle. This supposes a period of indecision in the market.
Furthermore, the weekly candle managed to reclaim support in the price range of $24,800 – $25,600. This level is crucial, signaling that bullish sentiment remains robust, and there's potential for a minor uptrend in the 4th quarter.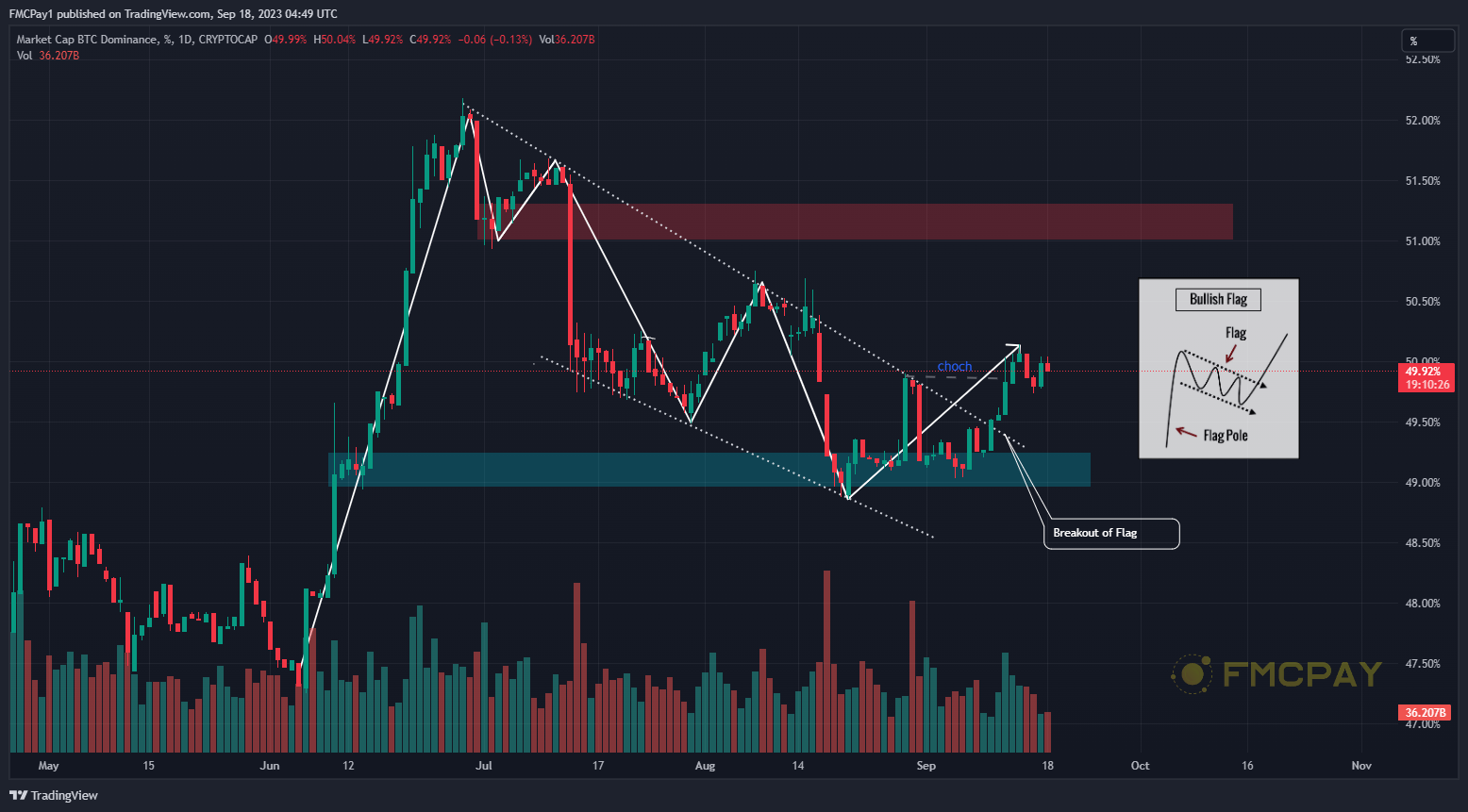 Back to focus on the daily time frame (T-F), Bitcoin is currently trading sideways within the range of $25,000 – $27,000. If BTC can break above the resistance zone of $27,000 – $27,500, confirmed by a daily or 4-hour candle closing above $27,000, we may anticipate the next price target at $29,000.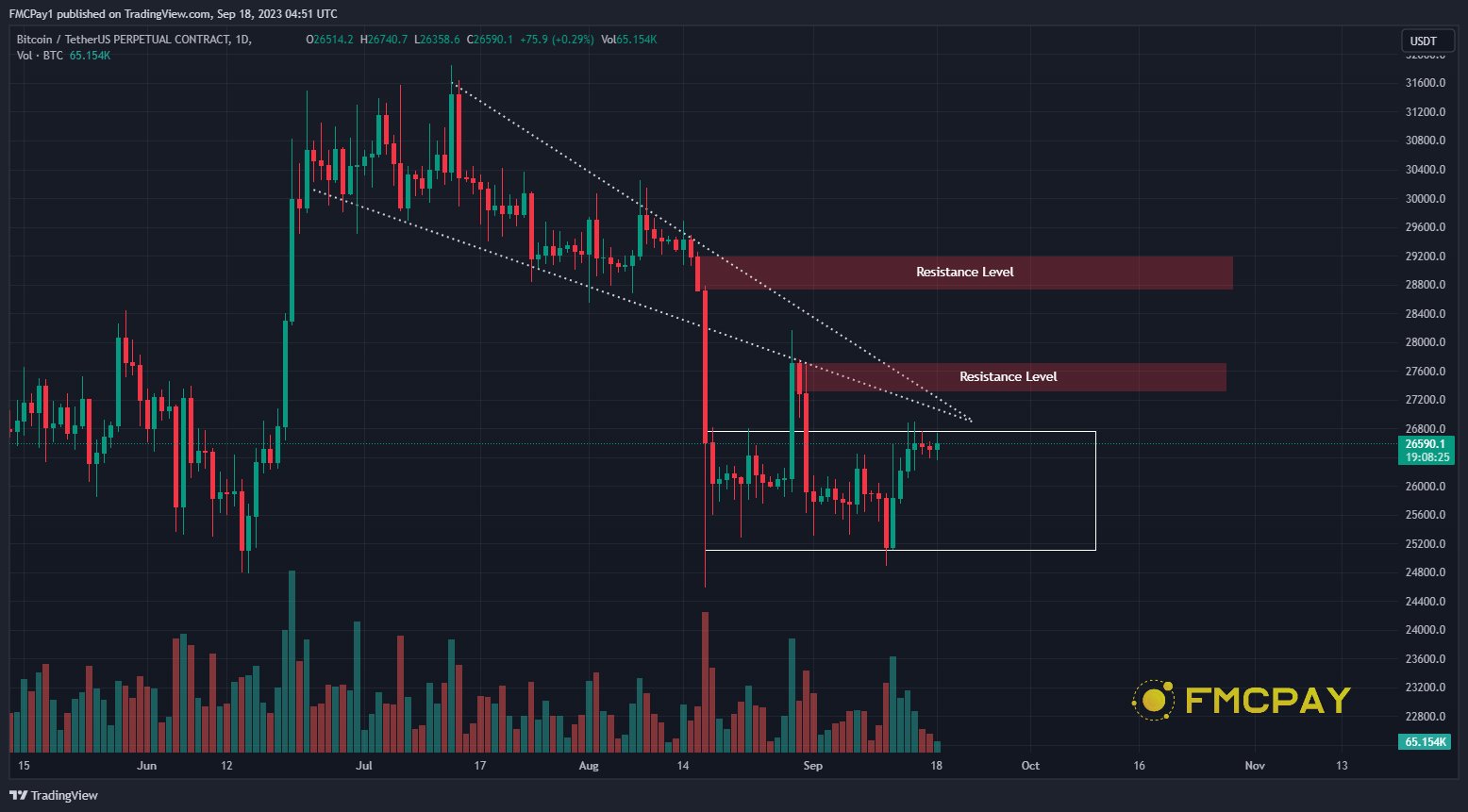 Now, let's examine BTC.D in the daily time frame (T-F). BTC.D appears to be following a bullish flag pattern, with resistance around 51.0% – 51.3% and support at approximately 49%. Recently, there was a breakout from this flag pattern, forming a structure that supports the continuation of the uptrend.
In summary, the analysis suggests that BTC is currently in a consolidation phase, but the reclamation of key support levels indicates potential for a bullish uptrend in the coming months. Additionally, BTC dominance is showing signs of strength, further supporting the notion of a sustained uptrend in the market.