Whales accumulating ARB have been active, as seen in a recent withdrawal of 825,000 $ARB = $678,728 from #Binance to their wallet about 10 hours ago
Whales accumulating ARB, with signs of buying activity
This is the first time Whale has withdrawn $ARB after several days of depositing on the exchange.
It is worth noting that on September 11, this Whale repaid the loan of 5,000,000 $ARB=$3,814,500 and then deposited it to #Binance, the price of $ARB decreased from 0.85$ to 0.74$.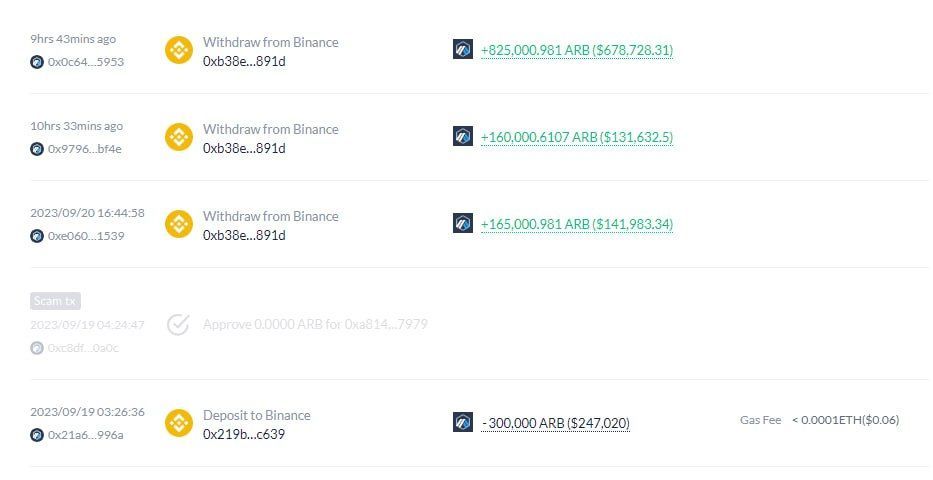 The stablecoin cash flow on the #Arbitrum system is experiencing a slight recovery in the past 7D
The amount of assets bridged to the system also increased sharply => more than $117M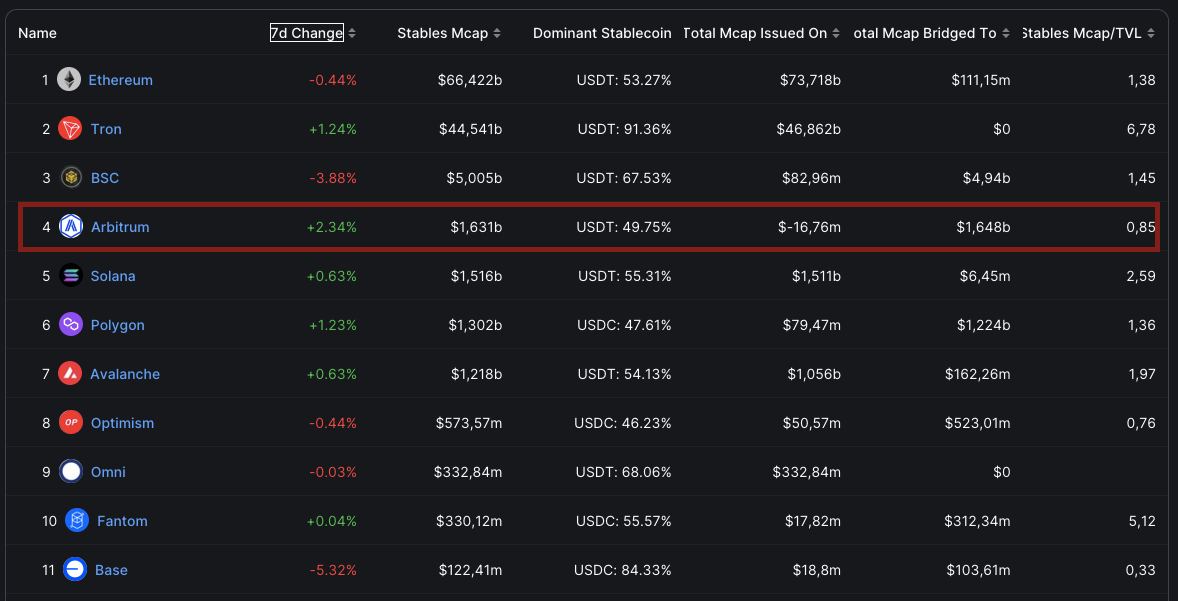 Check Out the Latest Prices, Charts, and Data of ARB/USDT 
The Others News
Gox is expected to begin redistributing funds at the end of the year, which could trigger a TWAP coin sale worth around $700 million. This accounts for 20% of the 140k coins that can choose to receive cash.

$LINA 's Stable $LUSD coin is suffering an attack exploiting a security vulnerability.

South Korea will implement new regulations on shareholders for cryptocurrency exchanges starting next October.

$TORN has been removed from the list of USDT trading pairs on Binance. Meanwhile, ARK, CREAM, FTT, GFT, IQ and VAI have been added to the list of USDT trading pairs.

Binance US is trying to get a settlement from the SEC's lawsuit related to "spoof trading" allegations.

Binance Labs has selected 12 projects for their Incubation Program season 6.

HashKey exchange announced that it will support BTC/HKD and ETH/HKD trading for individual investors.

SOL staking increased after Jito offered 10x bonus, reaching 2.2 million deposits on September 20. APY for SOL staking is about 6.8%.

Google Cloud added 11 chains to BigQuery: Avalanche, Arbitrum, Cronos, Ethereum (Görli), Fantom (Opera), Near, Optimism, Polkadot, Polygon Mainnet, Polygon Mumbai, and Tron.

Microsoft launched AI-powered Copilot for Windows 11 on September 26, as part of new AI solutions across all its products.

Payment app Venmo will offer stablecoin PayPal USD.

Tether buys $420 million in Nvidia GPUs for a 20% stake in Northern Data, which aims to lease GPUs to artificial intelligence startups.

10-year Note interest rates hit 4.5%, highest since 2007. 30-year mortgage interest rates hit 52-week high of 7.6%.