FTX aims to finalize its bankruptcy proceedings by the second quarter of the upcoming year, as indicated in its court filings from September 11th. 
According to these filings, the company is actively engaged in ongoing discussions and mediations with stakeholders in the following months to address unresolved issues concerning its bankruptcy plans. Notably, FTX has attracted interest from over 75 entities, including existing cryptocurrency exchanges, financial institutions, and strategic investors. 
Starting in May, FTX initiated a marketing process for its FTX.com and FTX US exchanges. The company's strategy for relaunching these platforms encompasses various potential approaches, such as acquisition, merger, recapitalization, or other transactions. 
Additionally, FTX provided a comprehensive overview of its assets in a recent court submission, revealing a total value of approximately $7 billion. These assets encompass a wide range of holdings, including cash reserves, cryptocurrencies, brokerage assets, reclaimed government assets, and various recovery initiatives.
Solana dominates FTX crypto holdings
According to the filing, the troubled cryptocurrency company currently holds a diverse digital asset portfolio valued at $3.4 billion, with its top 10 assets making up approximately 72% of this total value.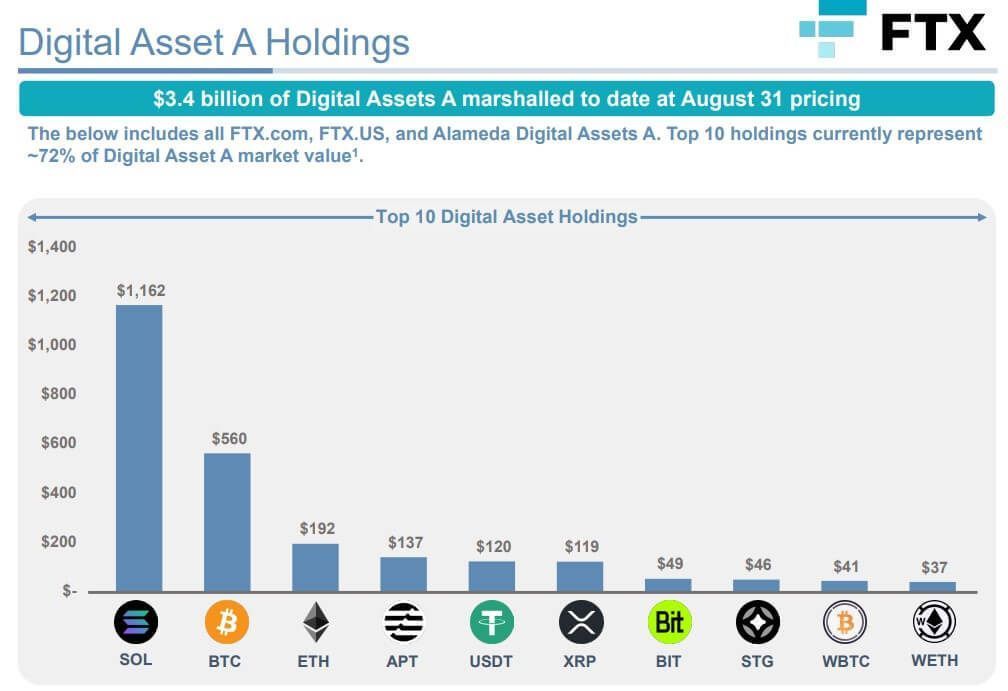 This portfolio comprises significant holdings such as $1.16 billion in Solana (SOL), $560 million in Bitcoin (BTC), $192 million in Ethereum (ETH), and $119 million in XRP. 
Furthermore, the filing reveals that the company possesses hundreds of millions of dollars' worth of more than 1,300 lesser-known assets that do not meet liquidity requirements and are primarily under its control. Some examples of these assets include MAPS, Serum (SRM), Bonfida (FIDA), and others.
It's worth noting that CryptoSlate previously reported that the bankrupt firm is seeking court approval to liquidate up to $100 million worth of digital assets on a weekly basis, with the possibility of temporarily increasing this limit to $200 million.


$4.5B worth of venture investments
The court filing further showed that FTX had 438 venture investments, totaling approximately $4.5 billion in funded assets.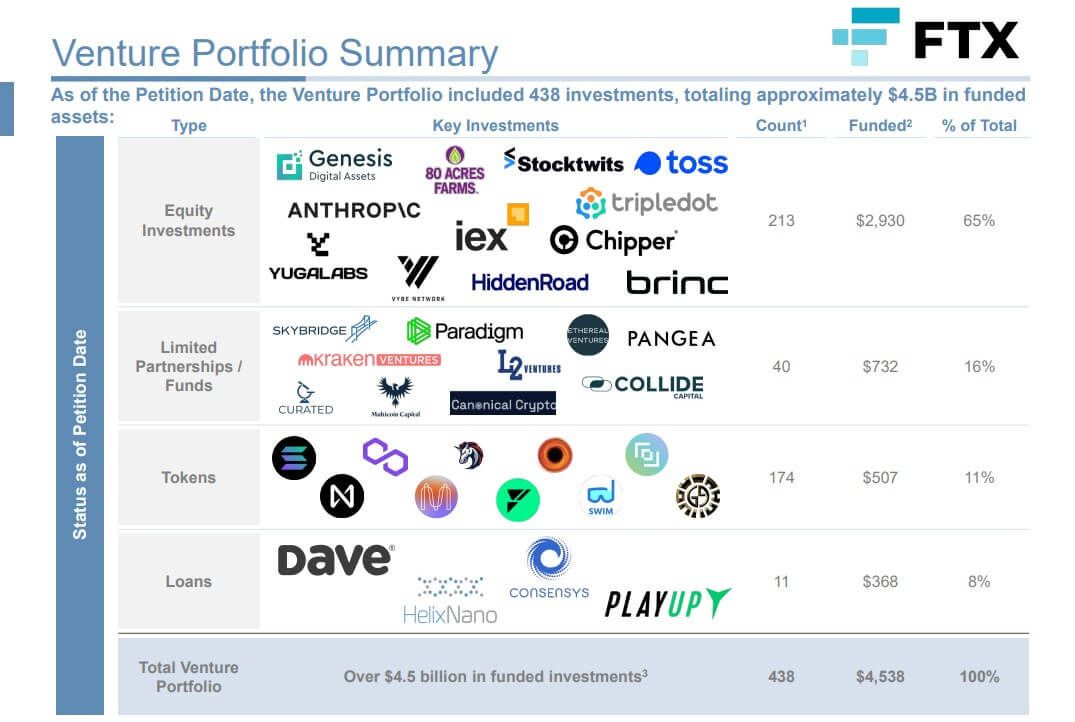 These investments included equity investments in firms like Yuga Labs, Chipper, Toss, Genesis Digital Assets, etc. It also revealed a partnership with major investment firms such as Kraken Ventures, Skybridge, Paradigm, etc.


Other assets
The filing revealed that the bankrupt firm possesses 38 Bahamian properties, encompassing condominiums, penthouses, and other real estate assets, with an estimated total value of approximately $200 million.
Additionally, the company maintains a significant securities portfolio valued at $529 million, primarily held in brokerage accounts with prominent crypto investment firms such as Grayscale, Bitwise, and BlackRock, the world's largest asset management company.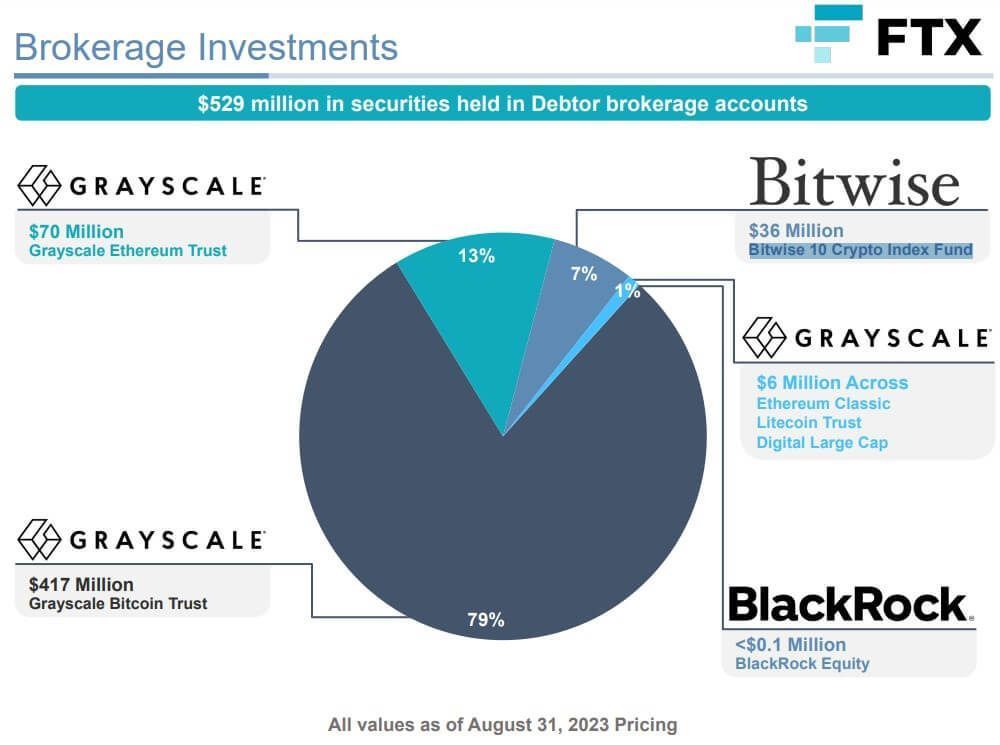 A detailed breakdown of these securities holdings indicates that $493 million is invested in various Grayscale products, including their Bitcoin and Ethereum trusts. Furthermore, the firm has allocated $36 million to the Bitwise 10 Crypto Index Fund and has a smaller investment of less than $100,000 in BlackRock's equity offerings. 
What will be the worst-case scenario for FTX? 
The unit taking over FTX exchange intends to sell high-liquidity crypto assets to fulfill a user refund plan, with a selling value of $100-200 million per week. However, this plan needs approval from the court in scheduled for September 13, and it's not certain whether they can sell all assets, similar to the case of Solana, as FTX's SOL assets are currently locked and will gradually be unlocked from now until 2027-2028. According to Messari's statistics, cryptocurrencies including SOL, APT, DOGE, MATIC, and TRX are facing significant selling pressure as the FTX token holdings represent a significant portion of the trading volume in the past 7 days. 
The market had a negative reaction on these days with the prices of APT,  ETH, and SOL all dropping to their lowest levels since June 2023 :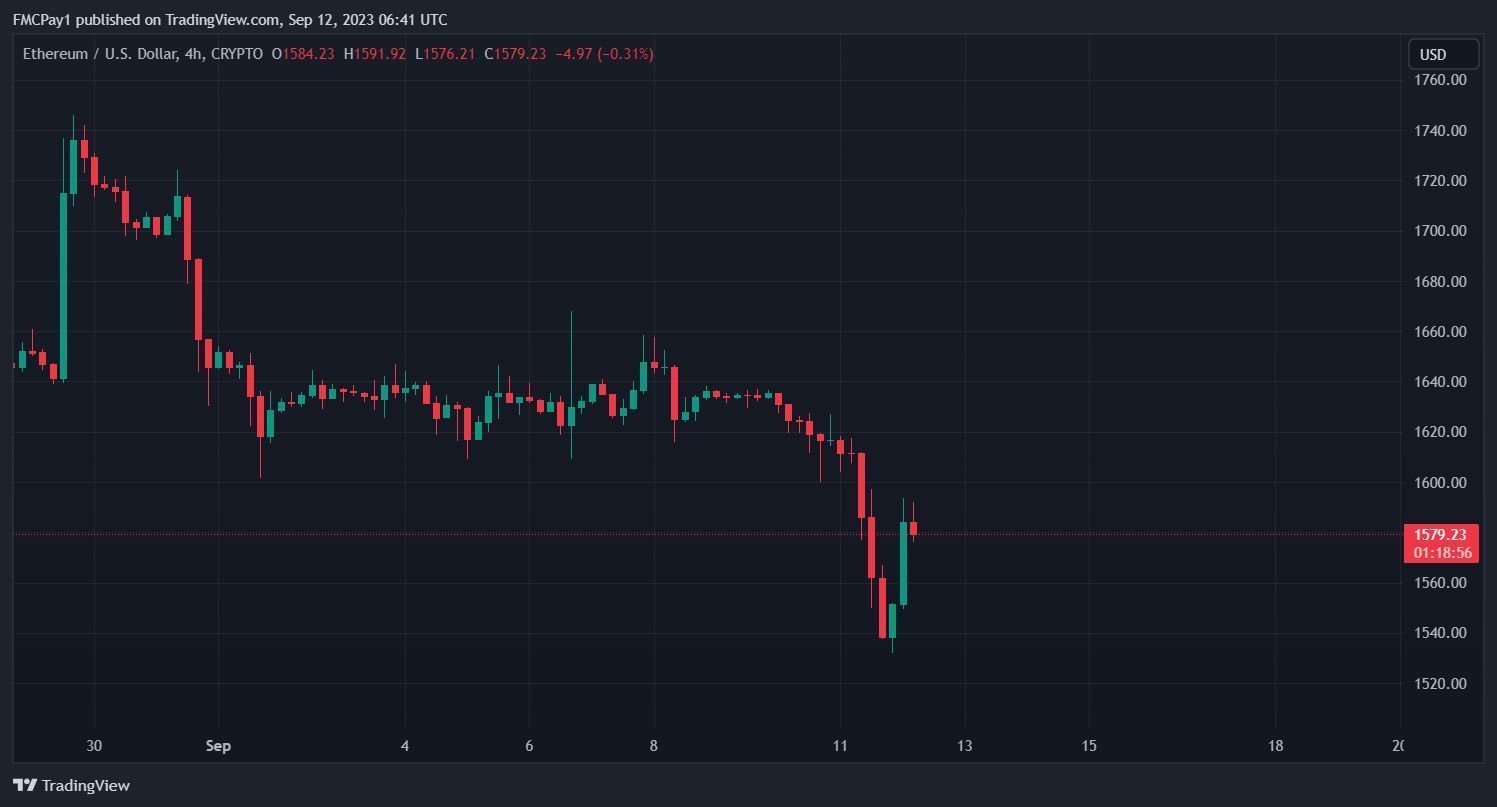 ETH/USD pair chart on September 12th.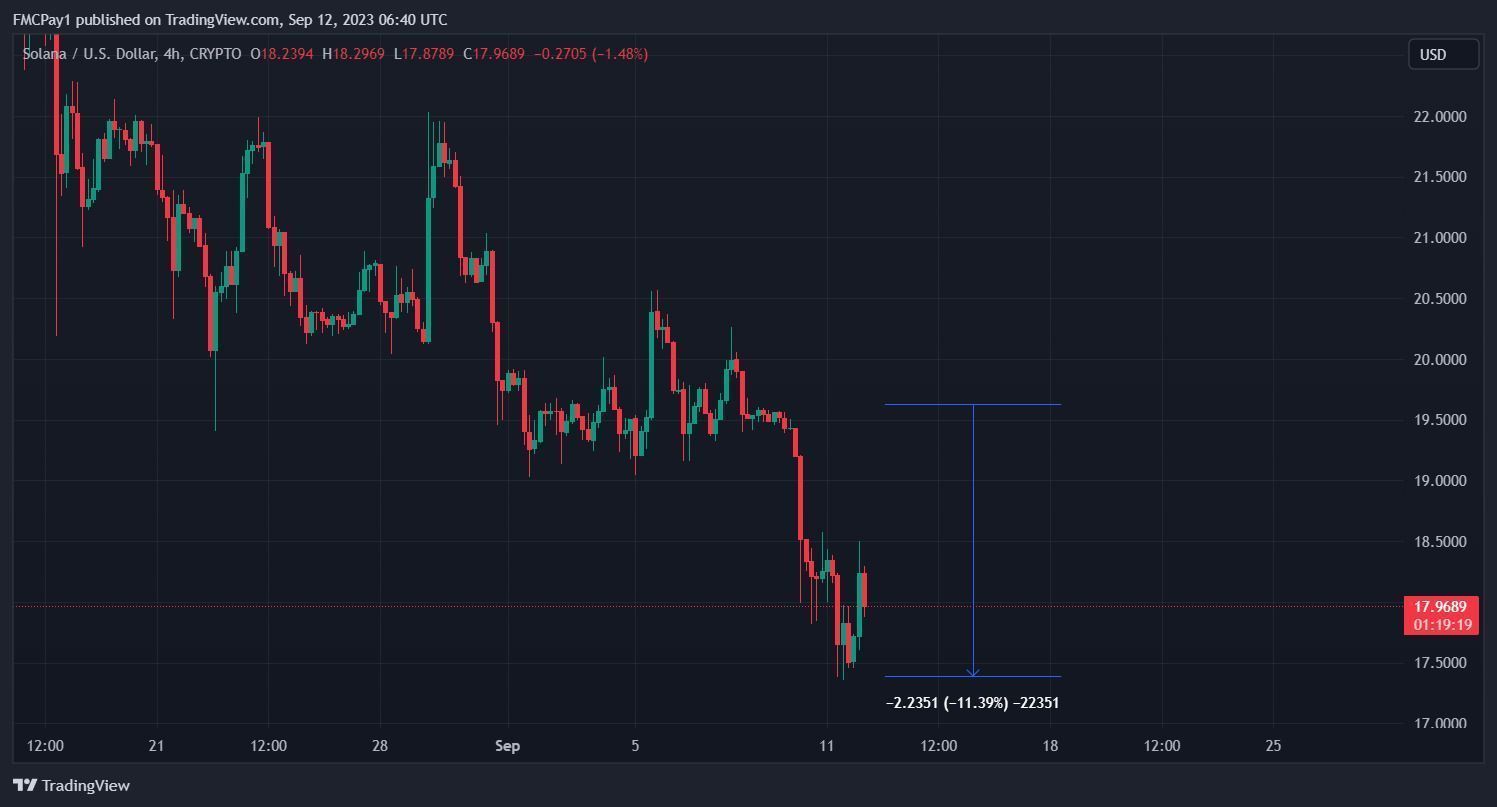 SOL/USD pair chart on September 12th.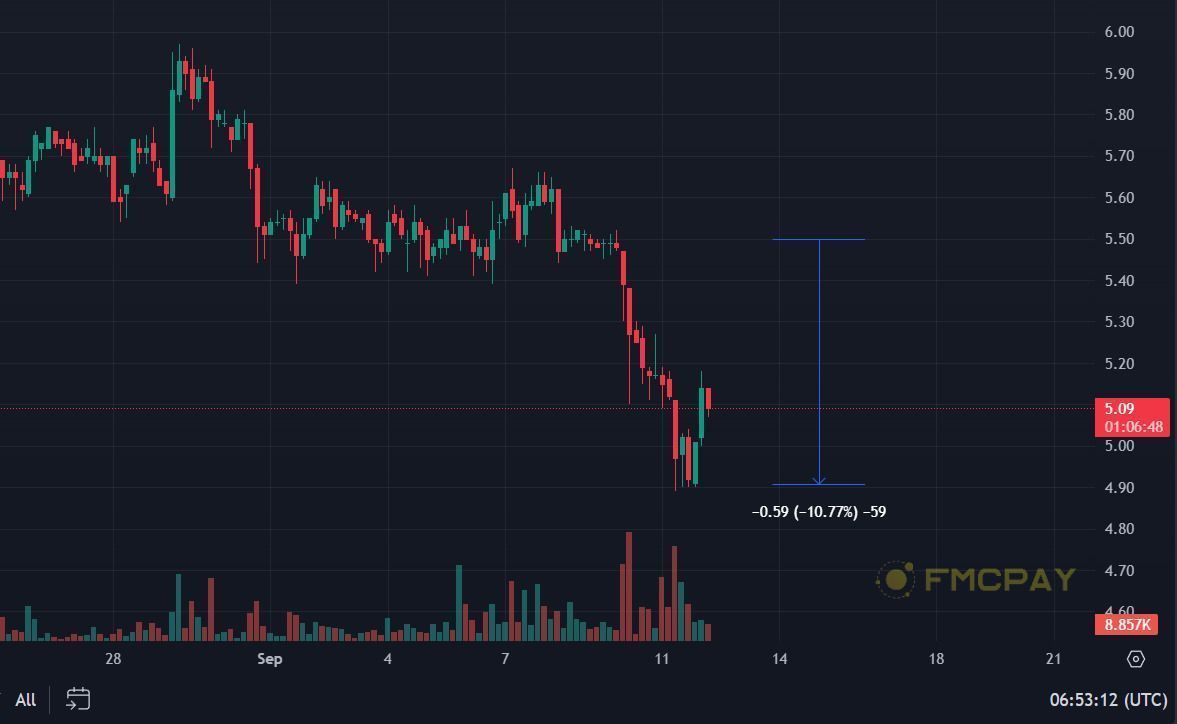 APT/USD pair chart on September 12th.
However, we can see that some big players may buy their tokens through OTC, which could help maintain the token's peg.
I can buy those TRX tokens via OTC. So we are fine. https://t.co/I1if7xSf65

— H.E. Justin Sun 孙宇晨 (@justinsuntron) September 11, 2023
Underwriters will take care of this matter and liquidate these assets with Risk assessment, finding buyers that are most likely OTC, negotiate the terms of the sale, including price, payment terms, and any conditions to avoid chaos in markets.
14th of Sep: FTX Gets Court Approval to Liquidate $3.4 Billion in Crypto Assets
The proposal gives the exchange the ability to sell, stake, and hedge its digital asset holdings. Subsequently, Judge John Dorsey approved the motion today despite two objections made in opposition. The billions of dollars worth of digital assets are now set to be liquidated for the repayment of creditors.
JUST IN: FTX receives court approval to liquidate $3.4 billion in crypto assets

• Solana
• Bitcoin
• Ethereum
• WBTC
• WETH
• USDT
• XRP
• STG
• APT
• BIT

— Watcher.Guru (@WatcherGuru) September 13, 2023
The request was made in August, expressing how the action would benefit the affected creditors. Specifically, the exchange noted that hedging its crypto assets allows "debtors [FTX] to limit potential downside risk prior to the sale of such bitcoin or ether" in its proposal. Additionally, it stated staking would "inure to the benefit of the estate- and ultimately creditors," according to Coindesk.
FTX has officially revealed the abundant assets that it still holds. In addition to its digital assets, it also owns 38 real estate properties in the Bahamas. The liquidation of cryptocurrency is a step forward, presenting the exchange with an opportunity to begin repayment.
Updating…