We are thrilled to announce that FMCPAY has joined forces with Coinfest Asia 2023 as a distinguished community partner for this year's premier event! Against the stunning backdrop of Bali, Indonesia, the event breaks away from the traditional conference mold, creating an atmosphere that encourages engagement, networking, and collaboration in a relaxed setting.
What is FMCPAY?
FMCPAY Exchange is a cryptocurrency and electronic stock exchange – owned by FUINRE corporation and registered for a financial business license in the US. We build scalable, secure blockchain-enabled solutions that supercharge users' experiences using digital assets.
Founded in 2021, FMCPAY Exchange stands as a cutting-edge platform for cryptocurrency and electronic stock trading. With a thriving user base exceeding one million individuals, we offer access to over 60 trading pairs, facilitating transactions that have surpassed the $5 million mark.
What is Coinfest Asia 2023?
Coinfest Asia is Asia's immersive web3 festival. Coinfest Asia 2023 converges Web2 and Web3 industries to explore real-world insights and valuable connections through an immersive festival experience.
Held at a casual clifftop venue in Bali – Indonesia, the event will be rather unique and not structured like a typical conference, giving all participants a platform to engage and network in a casual setting. Coinfest Asia 2023 is hosted by Coinvestasi, Indonesia's #1 crypto media (an Indonesia Crypto Network company)
Event Details:
Date: August 24 – 25, 2023

Location: Bali, Indonesia
Why Attend?
Coinfest Asia 2023 offers a unique opportunity to dive into the world of blockchain, cryptocurrencies, and the future of technology. Whether you're a seasoned industry professional or a curious enthusiast, this festival is designed to cater to all, with:
100+ Influential Speakers:

Connect and do business with web2 & web3 industry leaders!

Grow your network:

Connect with industry leaders, exchange ideas, and build relationships to grow your businesses and projects.

Discover real use cases:

Explore tangible solutions that bridge the gap between Web2 and Web3 industries.

Innovate ideas:

Participate in hands-on workshops and discussions to gain the latest developments and practices in the industry.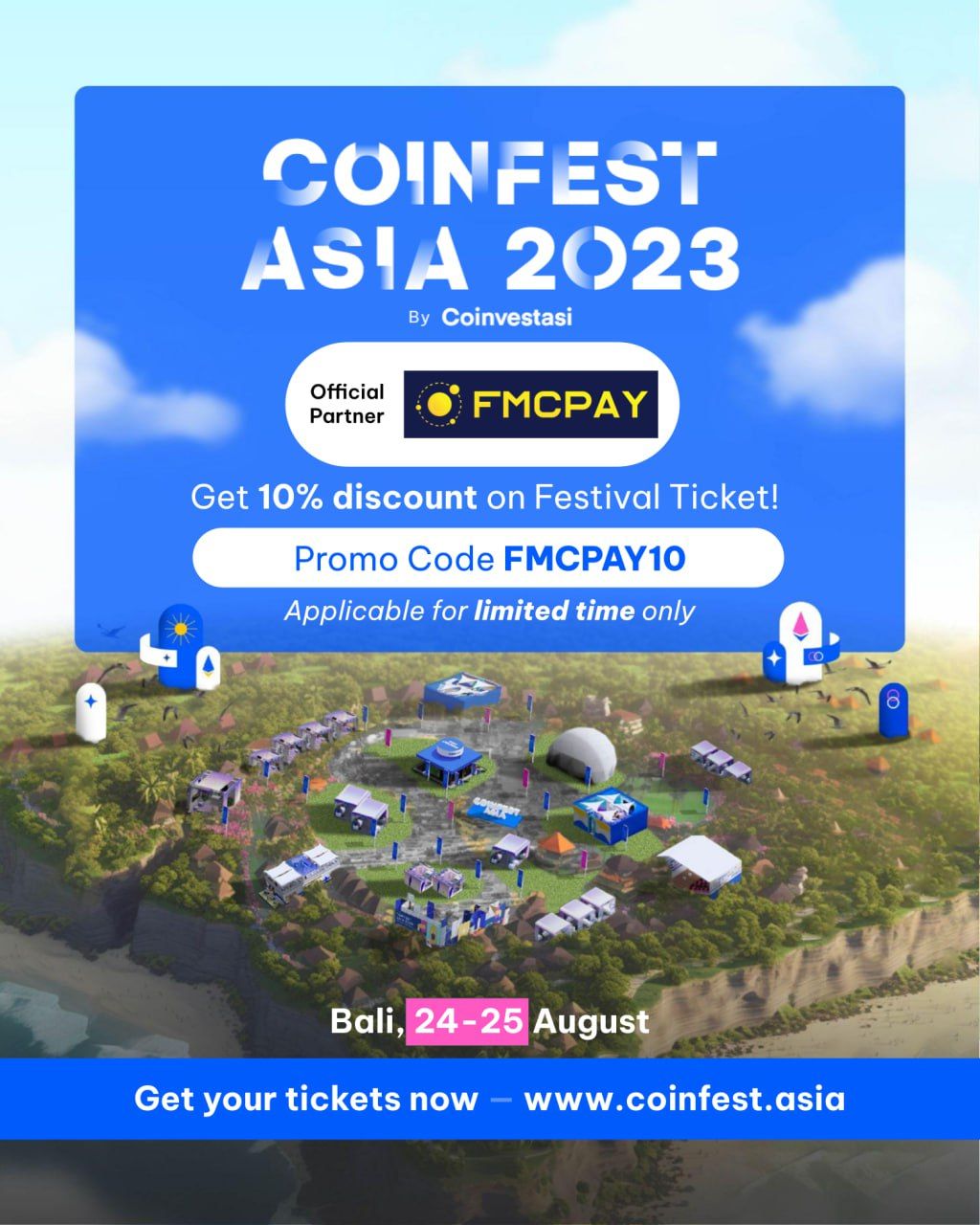 Special Offers
As a part of our partnership, FMCPAY is offering unlimited 10% discount codes for festival tickets (FMCPAY10). Don't miss out on this incredible offer!
Secure Your Spot
Ready to embark on a journey that transcends boundaries and embraces the future? Secure your spot now by purchasing your tickets at coinfest.asia. Remember to use the provided discount codes to make the most of your Coinfest Asia 2023 experience!
See you in Bali!
For more updates and information, follow FMCPAY and Coinfesh Asia 2023 on social media.