Ripple's native token, XRP trading volume, has experienced a remarkable 234% increase amid a wave of positive news for the company. Despite a recent period of volatility triggered by the rapid filing of BlackRock ETFs, XRP's price is striving to recover.
As of the latest data from CoinMarketCap, the token has faced a slight dip of 0.87% in the past 24 hours, currently trading at $0.64. Nevertheless, it stands out as one of the few cryptocurrencies within the top ten that has shown positive movement during this timeframe. This positive trend is likely a reflection of its strong performance earlier in the week.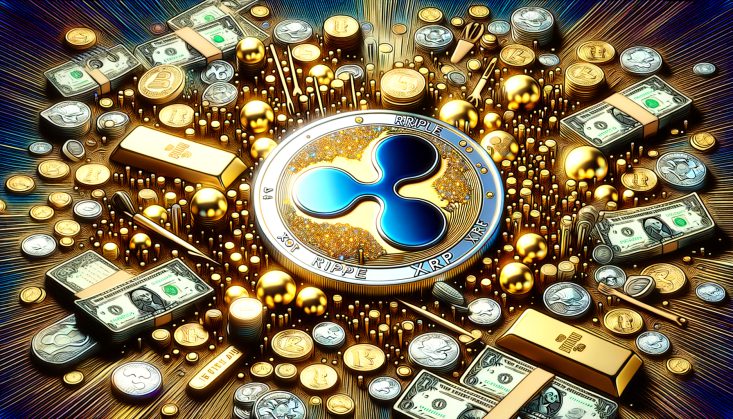 >> Trade XRP here
Ripple XRP Trading Volume Surges as Price Seeks Correction
This year has been undeniably positive for Ripple, marked by a triumph in its ongoing legal battle with the US Securities and Exchange Commission (SEC) and significant revelations during its Swell Conference, hinting at a promising near-term future. Despite initial optimism fueled by rumors of a BlackRock XRP ETF, which turned out to be untrue and led to a swift rise and fall in the asset's price, Ripple and its native token XRP have experienced a substantial 234% surge in trading volume, signaling an attempt at recovery.
Within the past 24 hours, a significant surge led to the exchange of 5.32 billion XRP trading volume. Following inaccurate reports, the asset experienced a rapid climb to $0.748, only to swiftly retreat when Bloomberg's Eric Balchunas clarified the situation.
Despite the temporary surge, the asset has settled back to the $0.64 level. Notably, since early November, bears have struggled to maintain XRP below a crucial buying threshold. Consequently, there is still an opportunity for the asset to recover some of its previously lost positive momentum, particularly aiming to retest the $0.732-0.74 range.
>> Also Read: Top 3 cryptocurrencies to keep an eye on this week