Whale Moves Millions of Arbitrum tokens to Binance, $ARB Undisturbed
A crypto whale made two significant transactions involving Arbitrum ($ARB) tokens on September 1 and September 4, 2023, transferring a total of 4,689,046 tokens to Binance. 
The whale currently holds 6,750,000 Arbitrum ($ARB) tokens, acquired between March and May 2023 at an average price of $1.235 per token. These transactions, occurring during a volatile market, have raised questions about market sentiment. 
Analysts predict further downward pressure on the token's price, potentially reaching $0.8550 by the end of September, driven by increased selling pressure due to the whale's activity
Onchain Activity 
Address 0xb41 further accumulated 1.799M $ARB from Binance at $0.78 ($1.4M) just now:
Notably, address 0xb41:
Has accumulated a total of 7.16M $ARB from Binance at $0.90 on average ($6.47M) since August 23 (20 days ago) and sent all $ARB to Offchain Labs' address 0x1e7

Used to behave the same during last June's crash: accumulating a total of 4.483M at $0.993 ($4.451M) from June 12 to June 17 then sending all $ARB to Offchain Labs 

$ARB just suffered a massive dump over the past 2 days, in which eight whales have allegedly sold a total of 25.65M $ARB ($20.35M) via Binance and decentralized exchanges and suffered an estimated total loss of $16.2M
Offchain Labs allegedly accumulated 7.16M $ARB from Binance at $0.9 ($6.47M) since August 23.
7 whales dump $16M over the past 30 hours to maintain their positions. 
One of the investors sold more than $3.2 million in ARB, after witnessing a substantial loss of a staggering $4.6 million. Meanwhile, another investor lost over $2 million after dumping $2.6 million worth of the asset with an initial investment stood at around $4.7 million.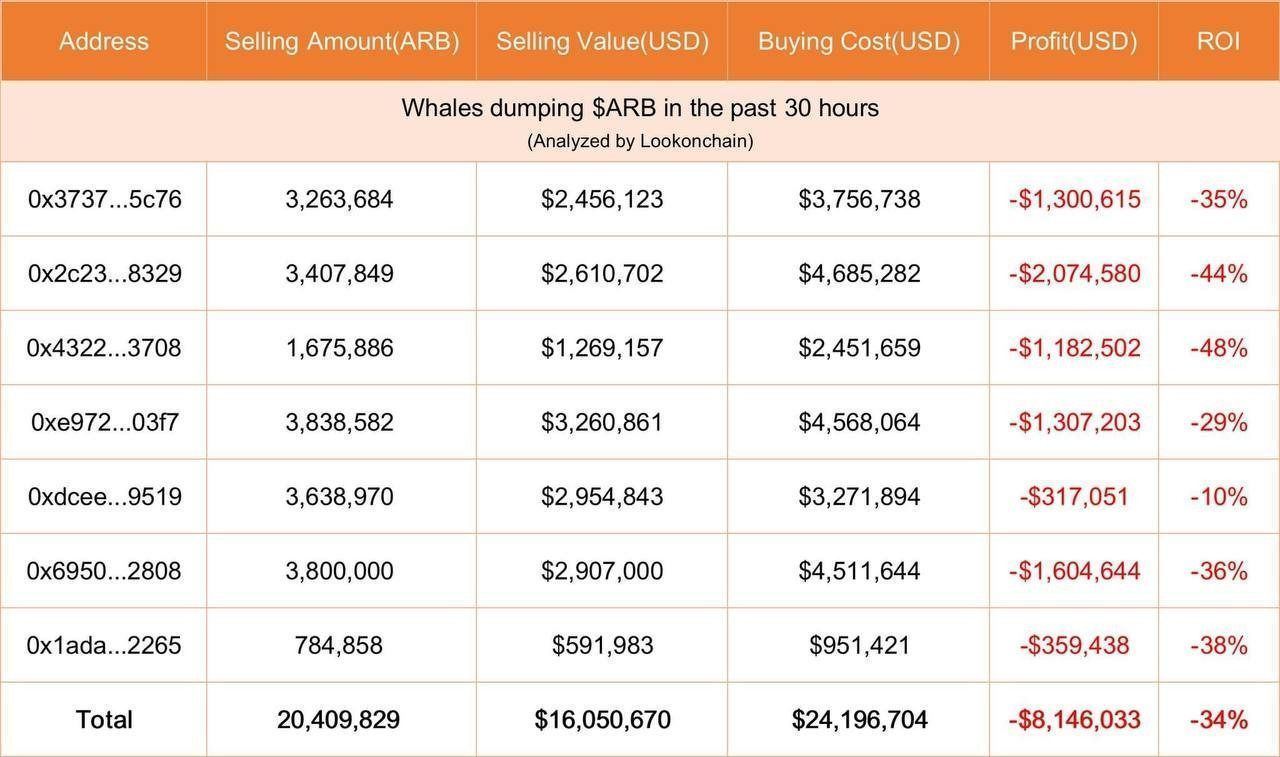 Big investors cut loss -10% to -40% that corresponding buying ARB at $0.8 – $1.5
 
That created an 18% flash dump in ARB within 2 days, and it's now trading at $0.7 marking a 54% decrease from the all-time high (ATH) reached in April.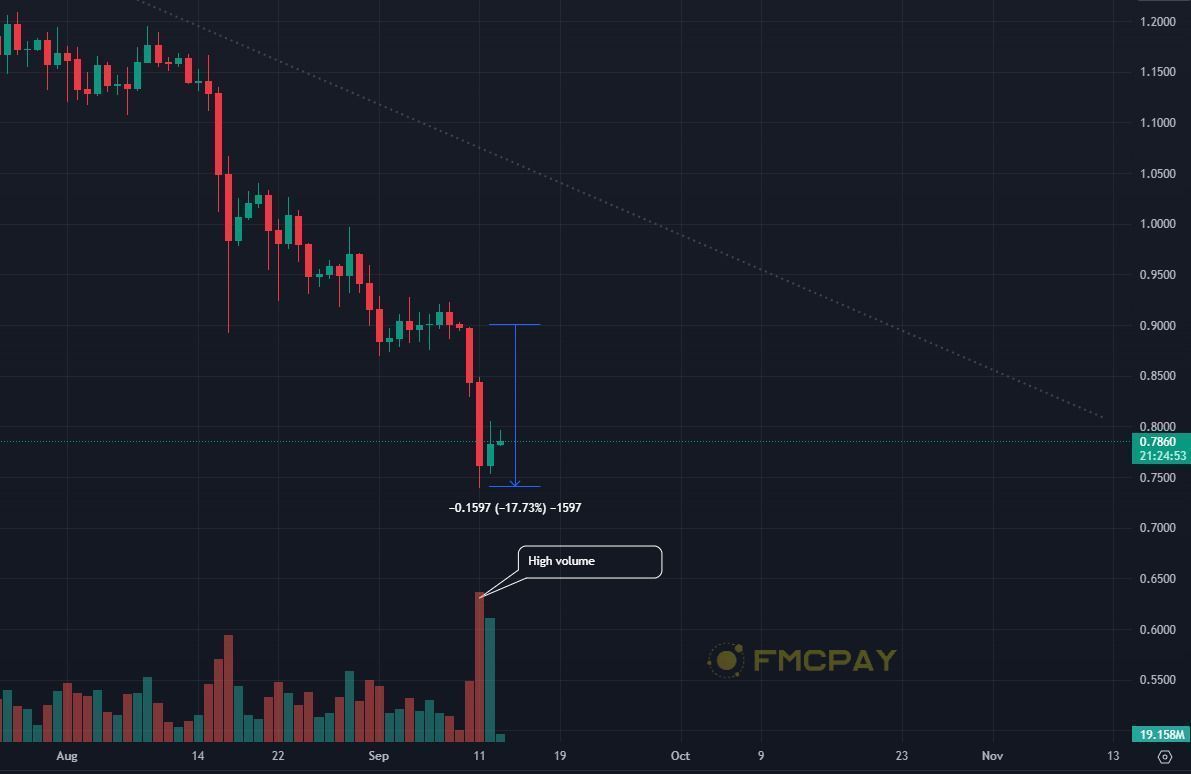 ARB/USDT pair chart on September 13th.
The downturn comes shortly after Token Unlocks, a crypto management platform revealed that Arbitrum will release over $1 billion worth of ARB tokens in March next year, in an effort to initiate a four-year period of staggered unfreezing of its native digital asset.
📅 Mark your calendars
$1.1 billion in $ARB unlocks are coming ⏳

On March 16th, 2024, get ready for a massive cliff unlock as the Team and Investors unlock their tokens, totaling a staggering $1.26 billion. 🔥

But that's not all! Starting from that day, every 16th of the… pic.twitter.com/Ayv4bKXmty

— Token Unlocks (@Token_Unlocks) August 16, 2023
Despite the recent downturn in the token's value, Arbitrum (ARB) continues to maintain its position as the dominant Layer 2 (L2) solution for Ethereum (ETH). It boasts a total value locked (TVL) of $5 billion, accounting for 55% of Ethereum's L2 ecosystem. 
Buy ARB/USDT: https://fmcpay.com/exchange/ARB_USDT